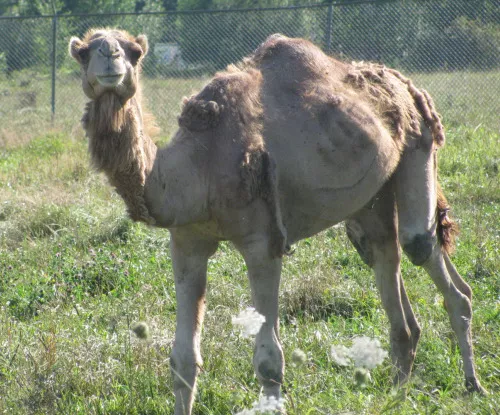 In the middle of lovely Amish country there are three of these guys.
I cross the bridge from Johnstown, Ontario to Ogdensburg, New York. It is very very windy, and maybe the most scarey thing of the trip. Most of the way over, the railings disappear. They are gone. There is construction and I am high up. I approach surprised construction workers and at first they are royally pissed at Canada Customs for letting me cross, but they cheer up and drive me the rest of the way off the bridge.
The walking south is lovely. Amish country. Two young men yell, "Hey!" from the barn where there are working. A woman driving children in a buggy nods friendly-like. And then, there's the camels.
Rensselaer Falls is a lovely village, soft green, brick homes, one small store. Buggy traffic. I am advised to camp down by the river, and as I head off the street to a wide swath of green by the water, three guys are slouched against a chain fence. Remembering that it's always good to introduce yourself to those who count, I stop to check in with them. "Oh, yeah," they say, "it's great down there." I tell them it's a very pretty place they live in. "You wouldn't believe the crazy shit that goes down here at night," says one.
"Really?" I say. "Surely not on Monday?" I go down the path and it is lovely. I take my shoes off and let the river roll over my feet. I have a good supper, courtesy of my sister Ellen in Ottawa, who has packed a picnic basket. And then I settle down to do some logic puzzles and just before it goes dark, two of those guys are back. They startle me because I have not heard them approach, but our chat is all friendly.
Jordan is the one who told me about the crazy shit that goes down in the falls. He bites his fingernails in short spurts.
Justin is his brother. They live Ellenboro, in North Carolina, with their mother, but summer here in Upstate New York, with their father. In a bit, the third of the three arrives.
Dan has the beer and the smokes and they take off for the hell-raising that happens in Rensselaer Falls on a Monday night. The sky is chock-a-block with stars. The river rushes by. In the deep night I awake to the clip-clop of a horse and buggy over the nearby bridge. I cannot see the buggy but instantly I think of Frodo and Farmer Maggot and the clip-clop of Merry's pony on the road in the night as Frodo is just leaving the Shire in The Lord of the Rings. The night passes with good sleep.