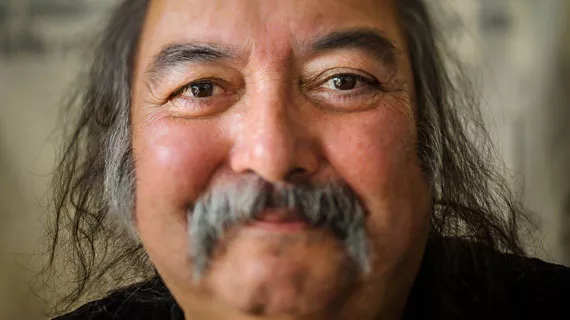 Anna Leonowens Gallery 1 window
Few Mi'kmaq stories remain in their original form. "There are only two stories found in their original form, not compromised [through translation]," artist Alan Syliboy says. The story of "The Stone Canoe," recently rediscovered after 150 years, is one of these, a story that's taken on larger significance for Syliboy. In the tale, the character Little Thunder travels in a stone canoe looking for a wife, meeting various characters and friends along the way.
"Thundermaker is the continuation of the story by me, where Little Thunder becomes Big Thunder," Syliboy says. Big Thunder, or the Thundermaker, has spawned a body of work for Syliboy, which includes a book (published by Nimbus), paintings and a short animated film, an NFB film co-created with Nance Akerman and animation students at the Nova Scotia Community College in Truro, originally produced and screened at the 2010 Olympics in Vancouver.
The body of work will be on display at Nocturne, with paintings hung on the walls and the animation projected inside of a tipi. "It will be projected on the floor, like a portal," says Syliboy. The installation toured 16 different communities in Nova Scotia in 2014. Syliboy is currently working on some new stories with the Thundermaker characters for upcoming books and serving as the 2016 Coady Institute Chair of Social Justice at St. FX, where he'll be presenting lectures, an exhibition and events throughout October. Catch him in Halifax during Nocturne.