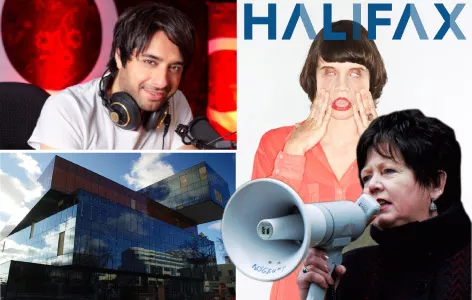 JANUARY
Halifax Rainmen coach Craig Hodges is denied entry to North Korea after being invited by Dennis Rodman. "Polar vortex" enters our vocabularies. Mike Savage joins Mayors for Peace. Justin Bieber surrenders to Toronto Police on assault charges.
FEBRUARY
The Ivany Report is released. Canada wins gold in hockey at the Winter Olympics. Saint Mary's University student Loretta Saunders goes missing. Blake Legette and Victoria Henneberry are eventually charged in her murder. Downtown councillor Waye Mason calls Toronto mayor Rob Ford a "total douchebag" on Twitter.
MARCH
Malaysian Airlines flight 370 disappears with 239 aboard. The Ukrainian revolution/Crimean crisis continues. Councillor Reg Rankin takes a two-month paid leave after being charged with impaired driving. How I Met Your Mother ends.
APRIL
Nova Scotia nurses stage an illegal wildcat strike. Boko Haram kidnaps more than 270 girls in Nigeria. The province scraps the university graduate tax rebate. Another round of cutbacks at CBC will eliminate 657 jobs. Former minister of finance Jim Flaherty passes away, at 64. Donald Sterling is banned for life from the NBA for being terrible.
MAY
Halifax gets a new logo. Farley Mowat passes away, age 92. Liberal communication director Kyley Harris is fired after being charged with domestic assault. The Supreme Court decision on the sale of St. Patrick's-Alexandra is appealed by JONO Developments. A snake goes missing in Ocean Towers. Maya Angelou passes away, age 86. The Nova Star ferry between Yarmouth and Maine launches to high expectations.
JUNE
The World Cup begins. Justin Bourque shoots five RCMP officers in Moncton, killing three. Scotiabank snaps up naming rights to the Halifax Metro Centre for $6.5 million. Regional council finally votes to decommission the Africville dog park. Medical marijuana lounge Farm Assists opens on Gottingen. It's raided by police two months later.
JULY
Lawyer Lyle Howe is found guilty of sexual assault. Eric Garner is killed by New York police. A $29-million settlement with former residents of the Nova Scotia Home for Colored Children is approved. Metro Transit morphs into Halifax Transit. Council votes to save the Halifax Forum from the wrecking ball. Catie Miller goes missing; three individuals are arrested in November for her murder.
AUGUST
Burger King buys Tim Hortons for $11.4 billion. Hundreds of hacked celebrity nude photos leak onto the Internet. Saint Mary's University announces its new Welcome Week initiative, a year after a pro-rape frosh chant blew up online. Michael Brown is killed by police in Ferguson, Missouri. Gamergate infects the media. Robin Williams, age 63, commits suicide.
SEPTEMBER
A deck collapse during a south end party sends six to hospital. The Liberal government bans fracking. Erin Brockovich stands with the people of Pictou against Northern Pulp. Scotland votes no to independence. Crystal Palace closes after 24 years. Westlock, Alberta hires ex-mayor Peter Kelly as its new chief administrative officer.
OCTOBER
The Health Authorities Act passes, limiting health care strikes and reducing provincial bargaining units. Former mayor Walter Fitzgerald passes away, age 78. Malala Yousafza wins the Nobel Peace Prize. Parliament Hill is attacked by gunman Michael Zehal-Bibeau. Ebola panic strikes. Toronto elects a new mayor. Multiple rape allegations against Bill Cosby resurface.
NOVEMBER
Jian Ghomeshi is fired from CBC, accused of assault and sexual harassment. A European Space Agency probe lands on a comet. Justin Trudeau suspends MPs Scott Andrews and Massimo Pacetti following allegations of sexual harassment. The Rehtaeh Parsons publication ban frustrates news outlets, the public. CBC's Radio Building on South Park shuts its doors for good.
DECEMBER
Three people die during a hostage situation in Sydney, Australia. Councillor Brad Johns spends $25,000 of his district's money on a talking Christmas tree. The American government and CIA are revealed to have been torturing prisoners and innocent detainees for years. Halifax's new Central Library opens to 10,000 visitors. Sydney Crosby gets the mumps. Dalhousie dentistry is rocked by a misogynistic Facebook page.