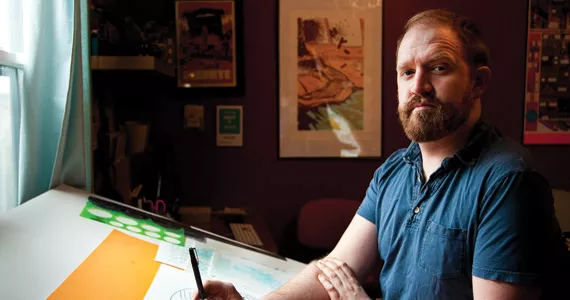 True grit: Mike Holmes at work.
Four years of comic strips, and all Mike Holmes got was a local and worldwide following, friendships with big-name comedians, a new appreciation for narrative, and, this week, his second book with Invisible Publishing. The True Story book compiles the strips that have been illustrating Haligonians' stories to Coast readers and online audiences since 2007. The comic got its start on a friend's patio one summer evening, as Holmes' friend related a story of a Toronto apartment next to actor and filmmaker Don McKellar's, where the residents could hear McKellar's phone conversations by turning their ancient TV's dial to a certain channel. As his last Coast strip, This American Drive, came to an end, Holmes was short on ideas. "Like any idea worth anything, it was grown out of desperation...I couldn't continue to drive around the US, so I had to come up with something," he says.
The story email-in format was there from the beginning, but Holmes admits it took him a while to work out the kinks. The initial concept was to have somebody send in a concept for a comic strip every week--- a broader idea of what True Story became. Holmes summarizes the short-story format as more of an "assignment" to readers, a way to allow him to work with other people within "simple and direct" restrictions.
"I had this romantic notion of sitting down with people with a tape recorder and talking to them because when people told stories in person, I liked the rhythms of their speech, I liked the way people told stories."
He realized that format wouldn't be sustainable and he'd have to rely on submissions. People send all kinds of ideas, from brief concepts to pages-long explanations to fully scripted stories with panel layouts. "People would write them out and use really big words, they'd try to fancy up the language and I wasn't necessarily looking for that," Holmes says. "I was looking for a good story, simply and directly told, because that's the only way it can translate into a comic strip. It took me a couple of years of doing the comic strip to realize that I needed to edit all those ideas, to get the story down to its essence." Working in the small weekly format, Holmes has learned to focus on an "economy of storytelling" and comic timing.
Comedy isn't far from Holmes' heart. While living in Toronto in the early 2000s, Holmes sometimes performed stand-up, and that sense comes through in True Story. His panel comics have caught the attention of the other sort of comics as well---Holmes drew a poster for comedian Paul F. Tompkins' 2010 Halifax show, which then caught the attention of fellow comedian Patton Oswalt. Oswalt asked Holmes to draw a poster for him, and that working relationship has "blown up" since last year, with more work and exposure online coming to Holmes. Tompkins contributed a story to the True Story book, and Oswalt a jacket quote. Holmes has gotten stories from some of Halifax and Canada's finest over the years--- contributors include Jonathan Goldstein, Ghettosocks, BA Johnston, and your roommate, plus stories and guest strips from local and formerly local comic artists like Darwyn Cooke, Kate Beaton and Joey Comeau.
The Don McKellar story, however, never went anywhere. "I was really intrigued by the idea, but it wasn't a whole story"---the tenants never did learn anything interesting about McKellar. "Almost immediately, before I even started the comic strip, I learned I had to come up with rules...it has to have substance beyond the initial hook."