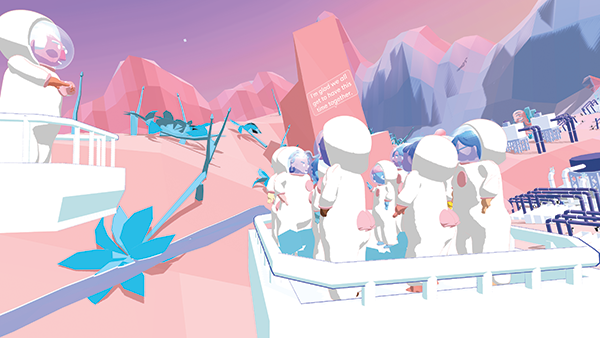 Exhibit 400,
Parking garage beneath Staples, 2003 Gottingen Street
---
T ough Guy Mountain is a Toronto-based artist collective that has been operating for the past seven years. With several of its members being from Halifax, the collective is excited to showcase its work on home soil for the first time at Nocturne 2019.
"We do a big mix of theatrical, campy and scripted performance," explains Tough Guy Mountain's writer, Iain Soder. "We also work a lot with technology, we use videos and projections. Lately, we've been working mostly with extended and virtual reality."
Throughout the evening, the collective will be showcasing four animated videos as well as a performance piece in the parking garage below Staples on Gottingen Street.
Tough Guy Mountain performs as a fake corporation, existing in an alternative dimension called Brandscape—where unpaid interns create brands for every existing company in the world.
"It's like a '90s-style office satire, with a magical Hogwarts-meets-Google vibe," says Soder of his satirical Office Space from hell.
In the theatrical story of The Brandscape, "The actual brand of capitalism has become so bloated, rotten and all encompassing, that internally the company is very anxious and is trying to figure out a new strategy." (That this also feels to be the case in our reality is a glossy cherry on top).
Since moving to Toronto, Soder finds that capitalism has gotten more relevant in his career as an artist: "Art under capitalism is so stupid, and this was inspiring as a joke for a while, but the joke stopped being funny after seeing the reality of capitalism," he explains.
Now, the collective is shifting its focus from simply making fun of capitalism to generating commentary on how capitalism is ending—and what will replace it.
"You can't joke about that stuff endlessly when the reality is so painful," adds Soder.
Tough Guy Mountain is bringing its Halifax members' homecoming into the theme of the performance, as the artists perform as characters in The Brandscape who are returning to their hometown to find out that no one knows who they are.
"You always dream about getting to come back to your hometown in an impactful, exciting way—so we're going to fake it," says Soder.
In reality, however, Tough Guy Mountain is grateful to be able to showcase their work to Halifax during Nocturne: "This is the most excited I've been to come back here. I'm always exciting to come home, but to come back and show people what I've been working on is really great."