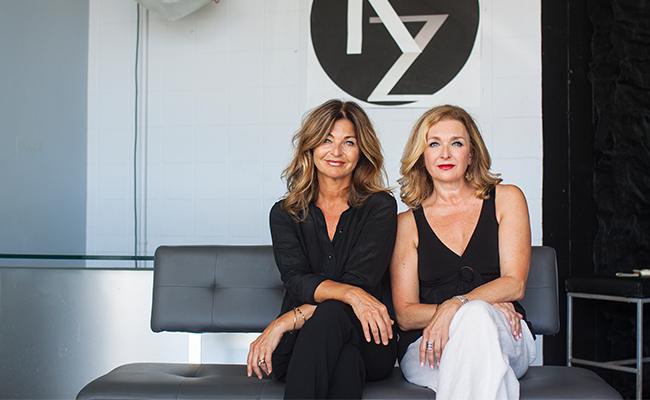 lenny mullins
Janet and Kathryn MacLellan opened The Waiting Room in four years ago.
Places Please! Monday, July 30, 7:30pm The Waiting Room, 6040 Almon Street $40 tickethalifax.com
A different kind of Waiting Room is facing closure this autumn: The four-year-old north-end performance space, rehearsal hall and home of KAZAN CO-OP will fall to the condo wrecking ball in the coming months.
"We rented to 18 independent theatre companies and many individual artists," says Kathryn MacLellan, who runs the space, and KAZAN, with her sister Janet. "And parties—wedding parties, birthday parties. Events, short films. Pure is in there right now using it as a lunch space."
The MacLellans knew the space at 6040 Almon Street—once the Acadian Lines bus terminal—was earmarked to come down (the building and the one next door, which includes Radstorm and will also close in September, are owned by Westwood Group), but they made the most of it while they could.
"It was the old Renovators Resource, it was painted bright yellow, it was full of furniture that got dumped from other buildings. And I just envisioned the space," says MacLellan, before rattling off a list of theatre friends who helped make her vision exist in 2014.
"A board member paid for the paint and about a dozen people came in and we painted and cleaned it. We'd just hired Louisa Adamson and were trying to rescue anything of value from the St. Pat's auditorium. The risers I bought from Neptune Studio. Shakespeare By The Sea donated the chairs because they'd just had the fire. I called Elizabeth [Murphy] and said, 'Can I borrow the chairs?' and she said, 'You can have them.' It was good will, it was passion, it was all artists."
KAZAN's Waiting Room productions included the inaugural Heaven Above, Heaven Below and The Weekend Healer, and companies including 2b (Old Stock), Heist (Princess Rules), LunaSea (The Donahue Sisters) and Kick at the Dark (David Sedaris' Uncomfortable Christmas Holiday Fun Time Hour!) put up shows there.
With community in mind, KAZAN will host Places Please! on Monday, July 30—MacLellan calls it "an early late-night talk show"—featuring a slate of performances from company alumni and special visitors. Daniel MacIvor, Stephanie MacDonald, Marguerite MacNeil and Patricia Zentilli are on the guest list while MacLellan hosts with Bill Carr. "It's for anyone who loves theatre and loves The Waiting Room and who wants to come by."
The Waiting Room joins The Living Room on Agricola Street as another theatrical space gone by the wayside in a town never overflowing with them. "The Bus Stop is the only one left, and Neptune Studio, which is too expensive for indies to rent," says MacLellan. "We were the least expensive and most used, and I'm not sure what we're going to do next."
MacLellan believes that in addition to government grants, artistic organizations need to pursue corporate and private money. "There's so many people who are going to be living in these new developments," she says, "but you can't go out to a restaurant every night, you have to have something to do. We have to appeal to the developers. How much ground-floor retail space is empty right now? Give them whatever tax break is required in order for us all to be nurtured. I told [HRM's public art facilitator] Jamie MacLellan,'You don't need to pay someone X number of dollars to do a study on 'Do you need an arts space in the north end?' I did it for you.' If you really want to know the need, look at what we just did for four years."
Places Please! is a fundraiser for KAZAN's next show—"Where is it's going to be? That's up in the air"—and a celebration of the work made and presented there. "People loved The Waiting Room," says MacLellan. "Perhaps because so many people passed through that place on that way to somewhere else, when it was the bus station? There's an energy there."