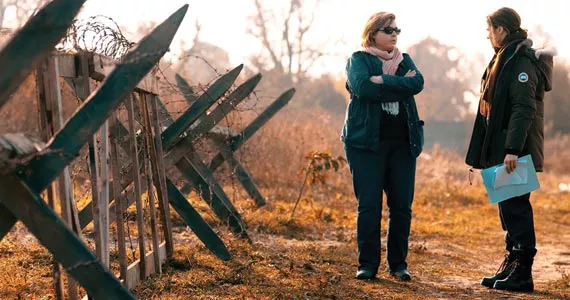 Larysa Kondracki and her star, Rachel Weisz.
Eastern Europe isn't a place that just breeds sick people," muses Larysa Kondracki. She's on the phone from Los Angeles, discussing her first feature, The Whistleblower. "There was this sudden collapse, inflation went up and there was this survival of the fittest. You have to sell what you can."
She's talking about organizations that sell girls in their early teens into sex slavery. Her movie is a based-on-truth drama about Nebraska cop Kathryn Bolkovac who, while working in Bosnia with a private US military contractor under UN jurisdiction, uncovered sex-slavery rings, implicating local police, a number of her colleagues and other foreign nationals.
Kondracki was born and raised in the Toronto Ukrainian community, where she'd heard stories about sex-trafficking in Eastern Europe before it had become a plot point in Law & Order. Her research led her to Bolkovac's book. It's worth noting that there have been alterations to the story, including the name of the military contractor to the UN, despite Bolkovac's having worked for Dyncorp being a matter of record.
"To insure [the film production] is a very costly endeavour," she explains, carefully. "For legal reasons, that may or may not be based on one military contractor."
The film took years to get made. Kondracki co-wrote the script with Irish writer Ellis Kirwan, and together they travelled all over Eastern Europe, "meeting high-level diplomats, underground NGOs, women and families." They shot in Toronto and Romania, and the final product, Kondracki admits, is a little toned down.
"I wanted to bring awareness to it but I didn't want to repulse people," she says, though recounts this story that didn't make it into the movie: "A guy came up to [Bolkovac] to complain that a girl he had purchased for 4,000 Deutschmarks had run away and he wanted to get her back. And Kathy looked at him and said, 'Do you understand what you've done is wrong?' And he said, 'No, I own her. I bought her.'"
The film hinges on a performance by Rachel Weisz as Bolkovac. The Oscar-winner was attracted by the script, as were other heavy-hitting actors such as David Strathairn, Monica Bellucci and Vanessa Redgrave. Kondracki never had time to get intimidated.
"You're working with people...who just want to be there, just as passionate as you," she says. "I brought seven years of research, but they brought their careers."
The story she's telling was born in the era of political thrillers such as The Constant Gardener, Traffic and Syriana, but with the economic meltdown, Iraq and Afghanistan, these kinds of socially conscious movies are less seen these days.
"I suppose it just didn't occur to me" that it would be out of fashion, says Kondracki. "All the President's Men and Serpico, these are my favourite movies. People also ask if I wanted to make it as a documentary. No, because I don't know how to make documentaries."
That said, The Whistleblower as a work of docudrama has earned quite a bit of attention. And Kondracki reports that after years of UN denials, in a letter from secretary-general Ban Ki Moon, she's learned the movie will be screened and discussed at the UN in New York in October.
"I think the movie has a relevance beyond just making one think," says Kondracki. "I plan to be a large pest."