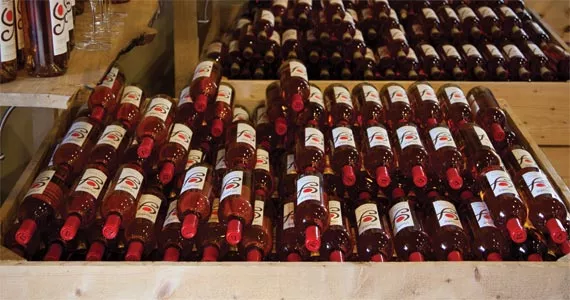 Acadie Vineyards
2007 Prestige Brut
A gold medal winner at the 2010 Wine Access Canadian Wine Awards, this has a classic yeasty, bready nose, complimented by floral notes from the L'Acadie grape. A serious sparkling wine, but costing less than Champagne, it has creamy mousse and strong lees (yeast) contributions owing to the 30 months spent on lees, resulting in bready notes that balance off the lemony acidity. More recent vintages are also very good.
---
Avondale Sky
2010 Tidal Bay
Nova Scotia's newest winery is famous for the church it floated down the river to use for its wine shop, but the wines will be the true test. Some new oak was used for part of the L'Acadie that makes up 85 percent of this dry dinner white, and the rest is the Riesling-like Geisenheim, giving floral and fruity notes. This is dry and food friendly, with lemony, white flowers and herbal notes.
---
Benjamin Bridge
2010 Nova 7
The annual release of Nova 7 ($25) from this sparkling specialist is always very popular. Made from a blend of Pearl of Csaba and New York Muscat, this is very pale pink, with intense floral (orange blossoms) and tropical fruit, mainly melon. It is lightly fizzy, with low alcohol and a pleasing finish, sweet with fruit, but balanced by pink grapefruit acidity. The champagne-style dry sparklers are even more impressive.
---
Blomidon Estate
2010 Seyval Blanc
Seyval Blanc is often too grassy, but winemaker Simon Rafuse avoids that here, with one of the purest, most mineral and fruit focused Seyvals ever seen on the market. Green apple, and lemon-lime aromas and flavours, with refreshing acidity and enough sugar to balance. Could pass for a good Riesling. Exciting things are happening at Blomidon these days.
---
Domaine de Grand Pré
2010 Tidal Bay
Like all Grand Pré wines, the Tidal Bay is clean and precise, with minerality and bright fruit, in this case mainly from Vidal, Seyval Blanc and L'Acadie. This is complimented by floral notes from a touch of Muscat and Ortega. A smooth, clean, crisp and balanced white that showcases what the new Tidal Bay appellation is all about.
---
Gaspereau Vineyards
2010 Riesling
Gaspereau makes a range of quality wines, but has really developed a stellar reputation for Riesling. Although limited in production and a bit pricey (over $20 for a 500ml bottle), they have planted more and now source grapes from other vineyards, and will hopefully continue to do so, so that more folks can try Nova Scotia Riesling. Winemaker Gina Haverstock's Riesling is light-bodied, with floral, citrus and wet stone notes, a light, clean palate, and refreshing acid on the finish, with decent length.
---
Jost
2010 Valley Roads L'Acadie Gris
Jost is very skilled at making good value blends like this, a $9.99 wine that won Double Gold (Best of Category) at the 2011 All Canadian Wine Championships. A blend of L'Acadie and Frontenac Gris, this is slightly off-dry, very fruity and clean.
---
Luckett Vineyards
2010 Phone Box Red
With its new wine shop and patio overlooking the Bay of Fundy, Luckett is a destination winery. The early releases have been well-made and this red blend is a good example, fruity with modern toasty oak notes (coffee, chocolate).
---
St. Famille
2010 Siegfried
This cross of Riesling and Gewurztraminer is a unique wine to St. Famille, Nova Scotia's second oldest continuously operating winery. It has spicy-floral elements alongside Riesling-like fruit, and has a smooth palate and good length, slightly off-dry.
---
Tideview
2009 Semi-Dry Cider
This tasty cider made from heritage apple varieties has a forward, fresh apple nose. It has good body, with real apple aromas and flavours and terrific balance on the palate. It is off-dry, but has just the right amount of acidity to go along with the pure apple flavours. Great traditional cider.