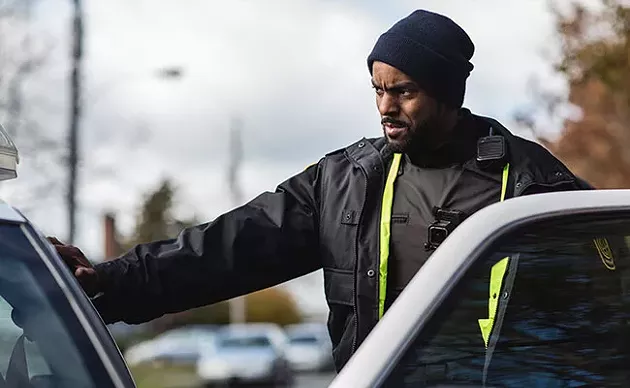 Andy Hines' Grammy nomination

The Nova Scotia-born Hines—his father is the photographer Sherman—already has a few awards for his music videos, including an MTV Moon Man. His clip for Logic's "1-800-273-8255"—a sensitive, six-minute coming-out story starring Don Cheadle and Luis Guzmán—is up for the big time, a Grammy Award, in February.
Black Cop
This timely drama, about a fed-up cop who goes rogue, feels like the movie Cory Bowles was born to make. After premiering at TIFF, it's had an enduring festival run with a theatrical engagement announcement set to drop any day now.
The Crescent
Black Cop's Halifax festival bud, this no-budget creepfest from Seth Smith and Nancy Urich will be a midnight screening headliner for years to come.
FIN: AIFF
In year 37, the Atlantic Film Festival half-rebranded as FIN (it's not an acronym), in a wholly unpopular move that was supposed to be unifying but mostly ended up confusing everyone. All of its associated events will officially be called FIN this or that as of 2018, so get used to it.
Maudie
Directed by an Irish person, written by a Newfoundlander and shot there too, this drama starring (British) Sally Hawkins as Maud Lewis and (American) Ethan Hawke as her prick husband sure got ahold of the locals anyway. It screened in every Maritime theatre Cineplex owns and challenged The Best Exotic Marigold Hotel's reign as the longest-running Oxford-hogger. All that, and it's middling at best.
Milk
Heather Young's quiet, nearly dialogue-free short, starring Vogue Dots' Babette Hayward as a dairy worker with an unplanned pregnancy, made waves on the festival circuit and a few weeks ago was named one of TIFF's Top Ten short films in the country.
The Oxford closes
"That The Oxford has fallen to development is what hurts the most. Stores and restaurants close all the time, sometimes because of condos and sometimes because of failure and it's awful but that's life," I wrote September 7, the week The Oxford went dark. "For a corporation to just sell off a piece of Halifax history, one that means so much to so many, that offers daily experiential art to citizens who will cheerfully, actively work for it—for a corporation to do something so fucking corporate—is not surprising. But that doesn't make it any less devastating."
Play Your Gender
Stephanie Clattenburg's documentary about women in music could be a Ken Burns-ian length but she keeps it to a concise 90 minutes, following Kinnie Starr around North America as she talks to Sara Quin, Melissa Auf Der Maur, Patty Schemel, Tamara Lindeman, Chantal Kreviazuk and many more about being in a business that's been slow to accept them.
That ad for Spring Garden Road
Remember the bizarre ad from the Spring Garden Area Business Association in which women be shoppin', pluckin' candy from trees, oglin' shirtless men and gettin' BOGO deals up and down the stretch? At nearly 30,000 hate-watches ("Get a life," SGABA board member John Young told CBC), "Simply Magic" stands out as the year's best unintentional local comedy.