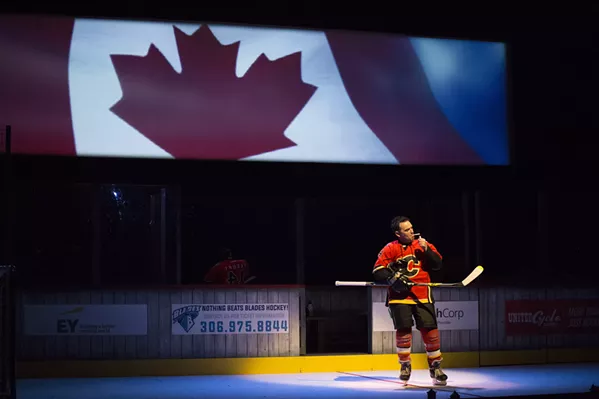 Stoo Metz
Smyth as Fleury in Playing with Fire.
In
Playing with Fire
, a one-man-show set on an ice rink, actor Shaun Smyth sets out to tell you the life of NHL superstar Theo Fleury. Now if you're me, and know squat about sports, you'll assume that Fleury is a famous athlete you're sure you've heard of, who played hockey. So for all those sports-squares out there I gotta hip, Fleury was a Métis NHLer, hailing from Manitoba, who rose to fame in a Calgary Flames jersey. Fleury's rise to bladed glory is inspiring: the son of an alcoholic father and a pill-popping mom, hockey was Theo's obsession and escape. A prodigy, young Fleury rose through the pee-wee leagues as a shorty scrapper who never shied away from a fight. It's a reputation that followed him through his professional career and one that he bore proudly.
But as many celebrities can attest, fame proved to be one hell of a proverbial rollercoaster. Thanks to an early childhood trauma, any flicker of hope for a successful life rewrite is tossed out the the window as his life derails into a lifetime of drug abuse and addiction.
Playing with Fire
is half-celebration, half-downward spiral, and both halves make for a compelling whole. Smyth plays the multi-faceted and complex Fleury with engaging versatility. Watching him effortlessly shift from a young, cocky hothead to a broken addict with an unshakeable penchant for booze, babes and blow is a showcase of theatrical gold.
For my non-sport enthusiast brethren wondering about hockey references and whether knowledge of the game affects the overall enjoyment of the show: Not really. Whereas most of the athlete name-drops might shoot over your head, like a hockey puck, your interest in Theo Fleury's insanely troubled, reckless life will remain unchanged.
Playing with Fire
is an entertaining cautionary tale about the consequences of unresolved childhood trauma and the dangerous vices we choose to extinguish them. It's also a redemption from life's darkest challenges and regardless of whether you actually care about hockey, you will care about what Fleury has to say.