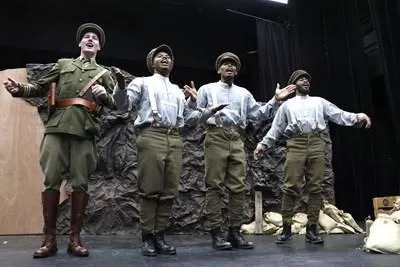 The Colour of Courage stars Nathan Simmons, Taylor McMillen, Joshua Thomas, Ryan Willis and Devon Taylor.
The Colour of Courage is a new play inspired by the journal of writer-director Anthony Sherwood's great-uncle Captain William White II, a Nova Scotian and first black officer in the British Army during WWI. The action follows the No. 2 Construction Battalion, known as the Black Battalion, as they hide in a trench under enemy fire.
The four soldiers, led by the embittered Sergeant Albert "Buck" Cromwell (Nathan Simmons), all joined the army for different reasons, but share a common experience of being low-ranking citizens both at home and at war. Enter Lieutenant Robert MacIntosh (Taylor McMillen), a white commander who may have had something to do with the murder of Buck's half-brother. The soldiers give him a makeshift trial, and it is in this exploration of injustice and responsibility that Sherwood's writing is at its best.
While the production of The Colour of Courage plays it safe in its examination of the deep-seated racism among Canada's touted honorable men, it does tell an important and timely story that complicates the national pride we are meant to wear on our lapels each November.
---
The Colour of Courage
Anthony Sherwood Productions
Written & directed by Anthony Sherwood
Starring Nathan Simmons, Taylor McMillen, Joshua Thomas, Ryan Willis and Devon Taylor
November 9-12, 7:30pm, November 13, 3pm
Alderney Landing, 2 Ochterloney Street
$15 - $25