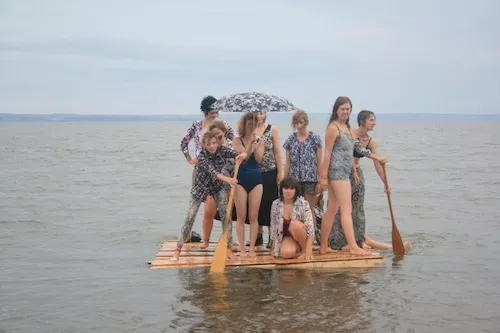 Andrea Williamson
It's raft-ure at White Rabbit
This ain't your average festival—it's a full-blown experience in the form of a 24-hour open air art exhibition. White Rabbit Arts is opening its (out-of-)doors for the fourth annual White Rabbit Experience 2012, August 18-19 at Red Clay Farm in Upper Economy. Event organizer Andrew Maize says it's "a chance for people to celebrate the process and work of the artists who participated in a week-long residency on the site."
For $60 a head (youth 10-18 are $10, children under 10 are free), participants have the chance to tour the installations alongside resident artists, all the while engaging in interactive discussion and mobile critique.
Projects include performance art, pirate radio, sculpture, and (for the first time at White Rabbit) ceramics—fired on-site—but the final result is all but predictable. The artists draw inspiration from workshops and their environment, which they will be seeing for the first time.
"Who knows what the end product will look like?" says Maize. "Part of White Rabbit's beauty comes from being able to engage with the site, the community of artists and the process of creation on a pretty intimate level."
But a weekend of art critique isn't all that's in store. Pancakes, a pig roast, camping, hiking, live music, micro-radio programming and an evening fire spectacle are on the schedule.
Can't make the entire weekend? The White Rabbit Open House will take place Sunday, August 19 from 12-5pm. Come take a free self-guided tour of the on-site projects.
Tickets for White Rabbit Experience 2012 are available now. Follow the white rabbit to www.whiterabbitarts.ca for more information