Nearly four months into the year, and six months since the election, and this week Halifax council finally got around to taking some substantive action. This isn't some newfound commitment to political activism, but rather an accident of calendar. A new city budget will have to be passed in April, and there's a lot of preliminary work that has to be done regarding juggling capital budgets.
The short of it is this: the city can't just go to a bus dealership, or firetruck dealership, test drive a couple of vehicles and plop a wad of cash down and drive off with the best one, everyone giddy about that new firetruck smell. It doesn't work that way. These are expensive vehicles, with relatively low production runs. Manufacturers can't make 20 million of them and sit them in a lot, waiting for someone to come buy and buy them. Rather, buses and firetrucks are specially made, one at a time, to order. And it takes a lot of time for the city to draw up specs and go through the tendering process, and a lot of time for the manufacturer to tool up and make the things. So much time, in fact, that the process spans two or even three budget years.
New buses
So council tenders for a manufacturer for a
prospective
purchase of, in this case, up to 80 new buses over five years. The winning manufacturer offers a set price, and each year the city figures out how many of those 80 buses it actually needs, or can afford. We'll contract this year for 22 new buses, but the buses won't arrive until next budget year, so it means council has to commit to that expenditure in this year's budget, but won't actually spend the money until next year. To make the books work out in accounting logic, well, it's complicated. So complicated that several councillors admitted they couldn't follow the logic. The bottom line is council had to vote this week to spend the money, and then appropriate the money in the April budget, then vote again later in the year to spend the money again. The accountants will swing their censors and mumble the hocus pocus, or whatever it is they do, and lo and behold a bunch of new buses will show up next spring and summer, and will hit the road by the 2014/15 budget year.
By that time council will have to take the additional step of figuring out how to pay for operating the new buses, the costs of fuel and drivers. This will undoubtedly be the subject of much hand-wringing and, we predict, the (bad) excuse to try to gut the property tax system again.
Still, we'll get the buses. We explained the specific kinds and uses of the new buses before, and that hasn't changed: half the new buses will replaces aging and non-handicap accessible older buses, which will be scrapped. Five more of the new buses will be added to existing routes for increased frequency and/or reliability. The remaining six new buses will be put on a new route connecting Portland Estates to the Woodside ferry terminal, just in time for a new ferry, which will also arrive for the 2014/15 budget year. That new ferry will mean the Woodside ferry will run throughout the day, and not just at rush hour, as at present.
Oh, several readers have asked about the bus that caught on fire last week. It appears that bus is salvageable, but even if it weren't, the loss of a bus would be covered by insurance, and the insurance payment would go into a capital fund to be used for the next bus purchase. Halifax now has enough buses that losing one to fire isn't going to affect operations.
Firetucks
Council Tuesday also bought a whack of new firetrucks. Or, more precisely, committed to buying them, subject to the future accounting voodoo.
Specifically, just as council awarded a tender for 80 new buses over five years, and bought the first 22, Tuesday council awarded a tender for 11 new fire department pumptrucks over a three-year period, and bought the first three, for about $1.3 million. A separate purchase of a single ladder truck, for just under a million dollars was also approved.
The pump trucks will replace three older such trucks, two that are 21 years old, one that is 19 years old. The ladder truck replaces one that is 24 years old, and has 65,000 kilometres on it—a lot for a ladder truck. Like the old one, the new ladder truck will be housed at Fire Station #2, on University Avenue, the closest station to all the new tall buildings going up.
Where the bus purchase represents in part an expansion and modernization of the fleet, the firetruck purchases are simply maintaining the existing level of service. It costs real money to run a city.
Other purchases
Other big ticket purchases by council this week include a $1.24 million purchase of a new RFID system for the libraries, and a $59,000 propeller for one of the ferries.
When the new Central Library opens, the number of items (not just books, but CDs, audio books, video, etc) circulating in the entire system will expand significantly. Rather than tag all the new stuff with the old barcodes, this seemed like a good time to update the technology to RFID, short for radio frequency identification. Bar codes had to be scanned individually, by hand, so require a lot of staff time, while RFID simply needs to be near the scanner, which picks up the codes by radio transmission. Library staff maintains the new system will save enough in staff time to pay for itself, albeit in practical terms it mean staff will be freed up to do honest library work instead of scanning books.
The propeller purchase is normal maintenance, as each year one of the existing ferries is taken out of service for a bit and fixed up as needed. The prop will go on the Halifax III, which will be taken out of service for the month of September.
Incidentally, all three ferries were built in 1978. They're old. Thirty-five years old. And the old boats use a lot of fuel, pollute a lot and are otherwise, well, old. The new boat coming on in 2014/15 will be lightyears ahead, performance-wise, but it is an expansion of the ferry fleet. The old boats will keep running. Sooner or later council is going to have to bite the bullet and replace them, and that's going to be costly, at least in the short term. Long term fuel savings and less costly repairs will pay for the replacement boats, but the purchase of those replacement boats will no doubt be criticized by the penny wise and pound foolish anti-government spending types. Council needs to start talking about this, and the sooner the better.
Nic Nax leaves the city dry
Like any government, large organization or business, the city needs from time to time to write off uncollectible debts. Most of these situations are unremarkable, but one this time around raised a lot of eyebrows: Nic Nax convenience stores, once co-owned by councillor Darren Fisher, owed the city about $82,000 for bus passes and tickets sold at the stores. By a vote Tuesday, council deemed that debt uncollectible.
The city makes arrangements with retailers to sell the bus passes, with no percentage going to the retailer. Citizens get more convenience in terms of places to buy passes, and the retailers get a draw of customers, who might buy other items while in the store. All the bus sale money goes back to the city. Or, at least it's supposed to.
Nic Nax consisted of three stores downtown. The company was founded by Darren Fisher and his brother Dale Fisher. Darren Fisher was first elected in 2008, and turned operation of the business over to Dale Fisher.
The staff report on the debt says that the bus passes/tickets were sold over a two month period, in all three stores. That would amount to about the equivalent of 190 bus passes sold in each store, each month. The staff report, however, does not say which two months were delinquent, nor even which year.
But without the money from the bus pass sales going back to the city, the city promptly stopped distribution of further passes to Nic Nax. The city seems to have moved reasonably quickly on this. Staff then worked with the company to develop a payment plan for paying off the money, and according to the report, "the owner" (unnamed) of Nic Nax agreed to pay $12,500 by December 31, 2012. But by that time the company did not pay the money, and instead went out of business. As Nic Nax was a limited liability corporation, there was no remaining creditor to chase for payment.
Darren Fisher may have turned over day-to-day operations of the company to his brother in 2008, but records at the provincial Registry of Joint Stocks office examined by The Coast show that Darren Fisher remained the company's president until February 5, 2010, at which time Dale Fisher was named president and Darren Fisher became vice-president. It wasn't until June 13, 2012 that the company's mailing address was changed to Dale Fisher's home in Fall River. The records go on to show that on November 2, 2012, Dale Fisher was named as the "recognized agent" of the company—the person who is to receive all legal notices, lawsuits, etc.
Most importantly, the records show that Darren Fisher remained as a listed director of the company until December 11, 2012. At least so far as the records at the Registry of Joint Stocks is concerned, Darren Fisher was a board member of the company long after it failed to reimburse the city $82,000 in bus pass sales.
Darren Fisher tells The Coast that he wrote a letter in June of 2012, resigning as a director of the company. He says a copy of that letter is with his lawyer. "I don't when [Dale] put the paperwork through," says Darren Fisher, who seems mostly embarrassed about the state of affair: "Either the business failed because I gave it to someone who didn't know how to run it, or the economy really tanked," he says sheepishly.
Without seeing the letter, it's hard to know for certain what happened. Certainly, a fundamental change in the company occurred in June, 2012, when the mailing address of the company was changed to Dale Fisher's residence. But why would it take another six months for Darren Fisher's name to be removed from the list of directors?
Regardless, even if, contrary to his claims, Darren Fisher remained as an active participant in the company right to December, 2012, the company's debt to the city would not be his legal responsibility. As is typical for most retail operations, Nic Nax was a limited liability corporation: with no remaining assets, its debts are uncollectible. That's how business goes.
There is a related rumour that was going around City Hall that Darren and Dale Fisher's cousin, Bruce Fisher, was involved in the business. Bruce Fisher is second in command in the city's finance department, and was running the department when it was between directors last year. Were he involved in Nic Nax, this would put Bruce Fisher in a very complicated position, to put it mildly.
But we mention the rumour only to refute it. There is not a shred of evidence that Bruce Fisher had anything to do with Nic Nax. His name does not appear on any of the dozens of company records over a period of 13 years, which we reviewed.
Even though no legal liability concerning the Nic Nax debt accrues to any of the Fishers personally, Darren Fisher had a responsibility under the city's conflict of interest policy to not involve themselves in the issue, and he did properly abstain from Tuesday's vote, and removed himself from council chambers for the duration of the discussion. Bruce Fisher's potential conflict of interest is far enough removed that he probably doesn't have to worry about it, but in any event there's no indication that Bruce Fisher was involved in collection efforts, albeit people who worked close to him necessarily had to be.
Unless some new information pops up—and we don't expect it to—this bad debt seems mostly unfortunate, a little messy, very embarrassing, but otherwise clean.
Mike Savage shows leadership
Lastly, we should quickly mention a display of leadership on mayor Mike Savage's part.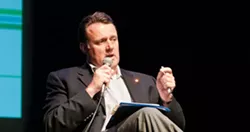 The issue isn't huge. Each year, council develops a long list of legislative proposals that it would like the provincial government to enact, mostly small and bureaucratic things, changes that the city thinks would make the place more governable, or whatever. The proposed change that most readers would be familiar with is a tweak to planning policies that would allow the city to award "density bonuses" to developers in return for some good like affordable housing or public art. That proposed change is huge compared to most of the list the city provides.
Still, for whatever reason, the province hasn't much done what the city wants, and basically the entire list sits ignored. This led to a general bitchfest at council, with one councillor after another condemning the provincial government, and then councillor Waye Mason suggesting that not only should councillors be talking with MLAs, but seeing how this is an election year, councillors should be talking to the opposition candidates as well, and generally politicize the entire issue. This suggestion was taken up with gusto by other councillors, and round and round the anger went, ratcheting up at every turn. For a moment, it looked like a pitchfork and torch salesman could've turned a pretty profit Tuesday, and council would soon head down the hill em masse to storm Province House.
This is when Savage gave up his position as chair of the meeting, handing the gavel over to deputy mayor Reg Rankin so that Savage could address the group. Savage took Rankin's seat, and quietly and politely talked council back, pointing out that politicizing the issue was, well, fucking nuts. "We need a mature conversation," said Savage, pointing out that positive engagement would bring more action than threatening to support the opposition. Remember that the NDP has a majority provincial government, and that Savage hails from Liberal Party ranks. Savage was, in short, the responsible adult in the room. Thanks to his intervention, council adopted a much more reasoned approach.
Like we said, it was a small thing. But such a display of leadership, such calm, convincing and reasoned argument in the face of an angry, somewhat unhinged council, was simply unthinkable through the Kelly years.
Things really have changed.