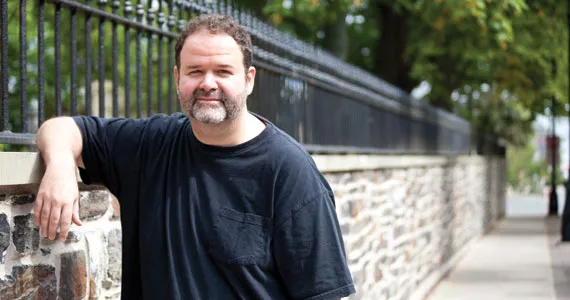 This is a rare moment of solitude for Halifax-based playwright and director Thom Fitzgerald. After spending the past weekend opening the Atlantic Fringe Festival---Fitzgerald was the festival's recognized agent---he is at home doing some light cleaning.
"I have some time to talk. I'm just doing some laundry," he says. Fitzgerald's work includes award-winning films like The Hanging Garden, 3 Needles, and the film adaptation of his recent play Cloudburst, showing this week at the AFF.
Growing up in New York, Fitzgerald attended the Cooper Union in Manhattan to study fine art, but while enrolled his focus shifted to the world of theatre. He began paying for his education working at the Second Stage theatre company, helping in productions and learning from the greats.
That's when a teacher recommended a trip to Halifax.
"I had heard about the 16mm filmmaking course at NSCAD. It seemed like a great way to get out of the city where I spent my life and see a slightly different part of the world," he says.
He decided to stay, and continues to make films and theatre productions as the artistic director of Plutonium Playhouse.
When asked why he has remained here after all these years, Fitzgerald answers a question with another question.
"What's not to like?" he says, citing the similarities between Halifax and New York with their majestic waterfronts and salty characters. "I kind of like the isolation as a filmmaker out here. That's changing, too. There are many more of us than I think 20 years ago."
With the spurt of fresh Atlantic films, some of which will be screened at this year's AFF, Fitzgerald has nothing but admiration for the new class. "I think we're seeing almost a school of filmmaking emerge," he says. "Clattenburg, Eisener, Melski and Bush. There's sort of a different wave of current filmmaking than the hometown rural types of stories from 15 years ago."
Fitzgerald's own Cloudburst tells the tale of two senior American women who elope to Nova Scotia in the hopes of getting married.
Originally written as prose by Fitzgerald, the story progressed into a theatrical release and film during the same writing period.
"I knew it would be a film and I knew it would be a play---it wasn't a one-after-the-other kind of thing," he says, adding it was a new process for the writer.
"Definitely doing it as a play in front of an audience and watching it run for five weeks influenced the screenplay as well as how I directed it."
Where the play created constraints due to the size of the stage, Fitzgerald let loose during film production, using the cinematic countryside to fully document the couple's travel from Maine to Nova Scotia.
"A movie is very different than a play. In the play you're getting the sense that you're inside of a truck, but in the movie you really experience the world of the journey around them," he says. "It's a very different kind of storytelling."