Due to last year's
Meryl Streep
Incident, in which she did not show up for the press conference to
August: Osage County
(I am reasonably sure, based on her zero promotion for it, she hated that movie), I kept my expecations low for
This Is Where I Leave You
, an OKfamily drama starring some of my goddamn favourites,
Tina Fey
and
Connie Britton
. I hipcheck my way to the front of the line to check out the placards—this cast is so huge there are two rows of tables—and both are there. The only no-show is
Adam Driver
, sad face. TIFF banned reporters taking photos last year, which I will get into another time, so you'll just have to trust that Fey was effusive and hilarious when called on, though the conference was dominated by
Dax Shepherd
(#Bravermans) and
Jane Fonda
, who was hilariously bitchy in the way only a grand Hollywood dame slash old rich lady can be. Director
Shawn Levy
(he of the classic
Night at the Museum
franchise) was bewildered no one was asking any questions. Lots of awkward silence. Producer
Paula Weinstein
looked pissed about this, but frankly the movie is not very loved and everyone knew it by then.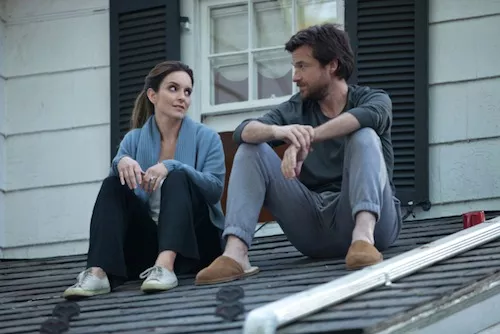 Fey and Bateman get familial in THIS IS WHERE I LEAVE YOU (on the roof)
I ran around to the side of the building but due to the boneheaded move of streaming press conferences online, more astute fans are aware of who will be coming to and from the building at any given time and it is a madhouse. Fey, Britton and the rest of the cast disappear into cars to a chorus of boos. Fonda shakes a few hands and is soon over it. My last few days of the festival are a weird blur:
Kevin Smith
's utterly bizarre midnight madness entry
Tusk
, starring
Justin Lomg
as a guy who is made into a walrus;
Ned Rifle
,
Hal Hartley
's indieriffic sequel to
Fay Grim
co-starring
Aubrey Plaza
; the incredibly chilling documentary
Tales of the Grim Sleeper
, a
Nick Broomfield
joint about an LA serial killer;
The Riot Club
,
Lone Scherfig's
follow-up to the overpraised
An Education
, this one about a group of rich douchebags who ruin a man's restaurant in the name of class war or something; and the doc
Do I Sound Gay?
in which a man tries to de-gay his voice in order to pass as straight. (It doesn't work, but it's entertaining.)
Lean into those there drums, son: WHIPLASH
The best out of this final bunch, and of my festival, is
Whiplash
, the Sundance sensation starring
Miles Teller
, one of the best young actors working, as a jazz drummer under the thumb of a manipulative, abusive teacher (
JK Simmons
). A thrilling, kinetic ride—about JAZZ DRUMS—from young director Damien Chazelle, it asks if artistic greatness is worth sacrificing everything that makes you human. Following its stunning 20-minute finale, people were so excited they were screaming.