My sister Sue and her husband Peter have a cottage on Lake Huron. Where other cottages in the area have TV antennae or dish satellites, Peter and Sue have an anemometer (and no doubt other instruments).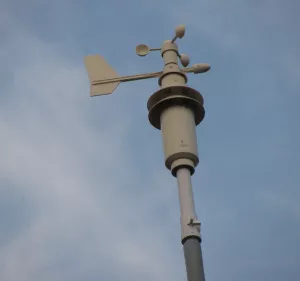 Although both Sue and Peter are very very geeky, nerdy, media savvy and connected in their lives in Toronto, on Lake Huron there is no TV and no computer. They spend their time outside. I am wtriting to you from the
Tobermory Library
; after almost 1,000 miles (the odometer when I got to the door of the cottage: 997.6 miles (1605 kms) it is the second library wanting to charge me to use one of their computers: $1 for thirty minutes. I am using my tiny netbook, but all the same, I say, "pah," and spit towrds the idea of a
library
charging for such a basic, necessary tool of inquiry.
I have ridden into town on the bike Sue keeps here, a Specialized Stumpjumper—a great bike that puts one's ass much higher than I am used to, but compared to my old bike is like a colt, and fun to ride.
I got here last Thursday, camped out one night, and then S&P arrived. Trigger and I have been on our own since Monday. The time has gone by in a bit of a fog. I have walked, eaten, gone in the water, played solitaire, slept, solved puzzles, read...
Sue and Peter will be back up later today. It is their seventh anniversary; after they had been living together awhile they went to a hill in Newfoundland, just the two of them, and were married by the turkey a guy named Gus who lives on the hill.
So I am going to cook something for when they get here.