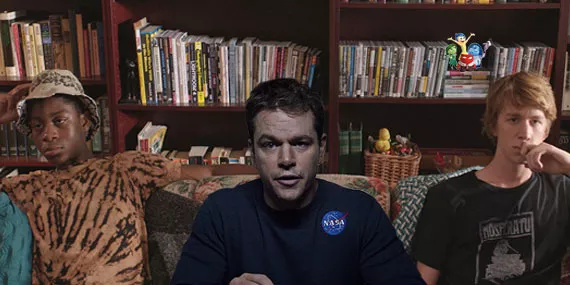 Amy
If you had any wistful feelings about Amy Winehouse's talent falling from the earth, they likely turned to white-hot rage after viewing Asif Kapadia's exploration of the life leading up to her overdose. A puppet of her father and her husband, Winehouse's onscreen personality turns from healthy spitfire to skeletal mess in a slow car-crash assembly of home videos, paparazzi photos and voiceover. It's heartbreaking and infuriating.
---
Creed
This is technically the seventh Rocky film ("Adrian's Revenge!"), and on par with the Best Picture original from 1976. Michael B. Jordan sidesteps his unfortunate Fantastic Four experience to emerge unscathed here with a remarkably vulnerable performance as Apollo Creed's illegitimate son. And Sylvester Stallone, like other men of his era—Costner, Keaton—joins them on the comeback train with a sensitive, lived-in turn of his own.
---
Grandma
This tiny family drama takes place in a day, and its plot is simple: A woman tries to help her granddaughter get an abortion. But this potentially twee indie-circuit setup is subverted by two things—big-timer Paul Weitz at the helm, and Lily Tomlin at the centre. Tomlin plays an unapologetic lesbian crank, marauding through the movie with a surliness bordering on merriment, softening when necessary, though not without a fight.
---
Inside Out
"What if dirt cried, what if a bone was melancholy, what if hands were lonely, WHY ARE YOU ASKING THESE QUESTIONS PIXAR," tweeted Mallory Ortberg after seeing Inside Out, possibly Pixar's most incisive film ever. It's a gentle, funny fable about literal feelings—featuring vocal perfection via Amy Poehler as Joy, The Office's Phyllis Smith as Sadness and Lewis Black as Anger—and how they become memories, and the way those memories form us.
---
Me and Earl and the Dying Girl
A John Hughes-by-way-of-Sundance coming-of-age story, this wonderful second film from Alfonso Gomez-Rejon went mostly unseen outside of festival audiences. Forced by his mom (Connie Britton!) to hang out with a cancer-afflicted friend (Olivia Cooke), Greg (Thomas Mann) forges a delicate, defiantly platonic relationship with her as the movie around him dazzles with spot-on parodies of classic films and breath-catching turns of beauty.
---
Mistress America
It's no Frances Ha—what could be?—but Mistress America, released the same year as his sour While We're Young, proves Noah Baumbach plays better with a partner. Especially his actual partner, the effervescent and peerless Greta Gerwig, who here plays Frances with a clue, helping her soon-to-be-sister navigate New York. It's a straight corker.
---
The Diary of a Teenage Girl
Marielle Heller's astonishing debut, about Minnie (Bel Powley), 15, embroiled in an affair with her mother's 35-year-old boyfriend (Alexander Sarsgaard), moves in a smart, a sun-drenched haze, spattered with animation, thrilling in its very mundanity, refreshing in its exploration of sex via the female gaze for once.
---
The Martian
Matt Damon stranded on Mars, growing potatoes in his own poop while narrating to the screen? Directed by Ridley Scott, last film Exodus: Gods and Kings? No thank you, you thought! Turns out Damon sciencing the shit out of this predicament was one of the most entertaining popcorn rides of the year, even if a better idea would've been stranding Jessica Chastain, who captained the ship but not the movie, instead.
---
Room
Room's escape sequence is one of the year's most incredible emotional achievements, made not by computers but by a seven-year-old and a camera pointed skyward from the back of a truck. The Canadian actor Jacob Tremblay must carry this movie on his tiny back and does so with the grace of a veteran, though he is aided considerably by a stunning Brie Larson as his mother, raising him in actual captivity. Room grabs you by the heart from minute one.
---
Spotlight
The Boston Globe's unravelling of the Catholic Church's systemic and covered-up abuses of boys was a landmark journalistic investigation in 2001, and Tom McCarthy's film version of that time feels like it fell out of 1976 alongside All the President's Men. It's an unshowy, impeccably designed, well-researched ensemble piece, yet Spotlight's biggest gut-punch is a series of title cards—a long, long list of churches around the world that helped keep their atrocities buried.