1. OL' SCHOOL DONUTS

A tricked-out school bus serving warm, ol'fashioned mini donuts with topping options like lemon cream cheese, cinnamon-sugar and Reese's Pieces.
Ol School on Facebook
@olschooldonuts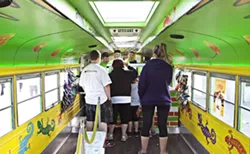 2. GECKO BUS

Modern Mexican cuisine, with a twist! You're gonna taco 'bout it after.
@GeckoBus
3. TIN PAN ALLEY

Thick Dutch-style fries with a variety of globally inspired toppings that may range from Pad Thai to pretzel poutine.

TPA on Facebook
@tinpanalleyfax
4. THE FOOD WOLF

A Halifax delight using local ingredients and meats to create unusual and unexpected fusions, like the K-dog. 

The Facebook Wolf
@thefoodwolf
5. HALIFAX PRESS

Grilled cheese food truck keeping Halifax engaged in what's cheesy.

Facebook Halifax Press
@HalifaxPressGC