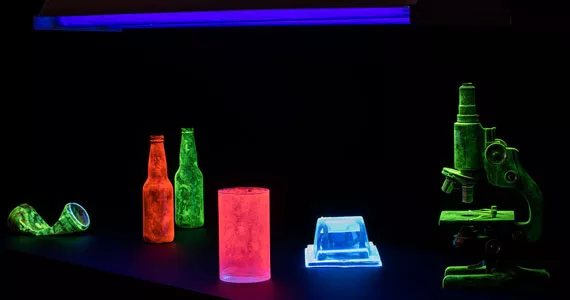 Best new thing: Art Bar + Projects Since opening its doors in January 2016, Art Bar & Projects—operated by the Anna Leonowens Gallery with support from the Khyber—has hosted over 136 official events and welcomed over 3,500 visitors. Featuring everything from Dada soirees to artist talks to futuristic proms, Art Bar has quickly become an invaluable hub for NSCAD students and the larger Halifax art community.
Best big show: Terroir: a Nova Scotia Survey, Art Gallery of Nova Scotia With works by 29 artists, this is the first retrospective of this size exhibiting work by contemporary Nova Scotian artists. This unprecedented show, whose title borrows from the language of wine, exhibits work across disciplines by some of the province's best emerging and established artists.
Best small show: Daniel Hutchison's Bright Black, Saint Mary's University Art Gallery For this solo show, 15 paintings hung in a small room off Saint Mary University Gallery's main exhibition space. Hutchinson filled the gallery with commanding works: many appearing entirely black at first glance, but as the viewer moved about the space the striated edges of the paint would catch the light, revealing a complex layering of colours and a careful, almost sculptural approach to painting.
Best shout-out: Uncle Garry's Speakeasy, No Offense* Gallery, Winter 2016 While the winter of 2016 saw many of Halifax's most established arts institutions turning their gaze to the supposed Golden Years of the Halifax art community, Jacob Perry, director of the now-defunct No Offense* Gallery, decided to create a more tongue-in-cheek tribute to this period with Uncle Garry's Speakeasy, a bar inspired by famous NSCAD president Garry Neill Kennedy. This conceptual art speakeasy featured painted murals in Kennedy's style (even incorporating some of the artist's own leftover paint), and served drinks named for his contemporaries, including the Lewitt Blew It, the Beervonne Rainer and the Vito Unconcious.
Best closing: Women & Wine, Lion & Bright An exhibition of paintings featuring women posing with glasses of wine generated a lot of buzz amongst patrons of Lion & Bright during its month-long hang this summer. There was a collective sigh of relief when it was taken down.
Mollie Cronin is a bratty cartoonist moonlighting as a freelance arts writer.