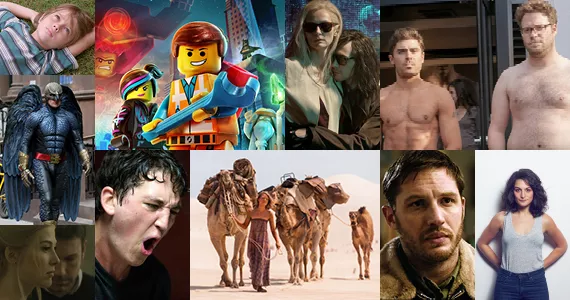 Birdman
Alejandro González Iñárritu's Birdman wins the Meta Award for casting Michael Keaton as a washed-up action star trying to go legit on Broadway. Keaton is electric, surrounded by terrific actors—Amy Ryan, Emma Stone, Edward Norton—and a camera that never stops moving. Tiring, in the best way.
---
Boyhood
It is 100 percent fitting that Richard Linklater, overlooked as America's best director for more than two decades, is finally being rewarded for the film that took him 12 years to complete. You've never seen anything like it before, and you never will again. An astonishing achievement in a career packed with them.
---
The Drop
Tom Hardy has begun to win awards for Locke, but his sensitive, quiet performance in this tough crime drama is as much of a standout. Where Drive got off on its own gauzy face-crushing dimbulbery, The Drop looks for warmth on cold streets, reluctantly violent, only when it has to.
---
Gone Girl
Overstuffed and overlong, like most David Fincher films, distant and cold, like all David Fincher films, Gone Girl is nonetheless shot through with a daffy batshit energy, likely unintended. It's open-mouthed entertainment with a capital E. Team Amy forever.
---
The Lego Movie
A year of hearing "Everything is Awesome" makes it easy to forget the fresh, hilarious, giddy feelings inspired by this wonderful story (and the year's best Chris Pratt performance)—it insists that specialness is yours for the taking, as long as you believe in you.
---
Neighbors
Zac Efron, troubled dreamboat slash frat boy, is an oddly perfect foil for Seth Rogen, newly responsible dad. Packed end-to-end with well-crafted hijinks, Neighbors is also a surprise showcase for Rose Byrne, a deft and nimble comedian, who knew?
---
Obvious Child
Two stars arrived via Obvious Child this year: comedian Jenny Slate, one of our busiest television performers, can add movie star to her resume; Gillian Robespierre, who wrote and directed this clear-eyed and heartfelt abortion movie, can get her next one made on its strength.
---
Only Lovers Left Alive
Jim Jarmusch's pretentious, dour vampire movie has rock and roll charm to spare, thanks to note-perfect casting in the form of Tilda Swinton, actual vampire, and Tom Hiddleston, vamp of your heart/loins. This undead couple buys its blood (killing is gauche), drives around Detroit and lounges sexily amidst analogue recording gear.
---
Tracks
Reese Witherspoon's Wild has a lotta nerve existing in the same year as this festival circuit wonder, starring Mia Wasikowska as Robyn Davidson, who in 1977 walked three camels across Australia simply because she wanted to be alone. It's beautifully shot in a harsh landscape that keeps you the right bit of uneasy. (Tracks' Diggity is tied with Tom Hardy's puppy in The Drop for the year's Best Performance By A Dog.)
---
Whiplash
The pursuit of artistic greatness at the expense of one's self, via the jazz drums of all things, put on a screen by a 29-year-old director, acted with exhausting, exhilarating fervour by the year's best couple, Miles Teller and JK Simmons.
Tara Thorne fell in a parking lot on her way to the best show of the past five years, St. Vincent at Jazz Fest. She still can't kneel on her left knee. She has been writing and working for the Coast since 1996.
Browse the trailers here: