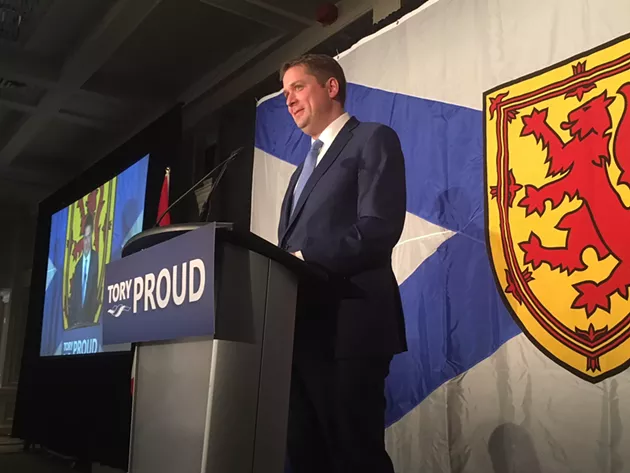 MAIRIN PRENTISS
Conservative Party leader Andrew Scheer speaks during Saturday's luncheon at the Nova Scotia PC AGM in Halifax.
Nova Scotia Progressive Conservatives are attempting to shift from crisis control to re-unifying at the Party's annual general meeting in Halifax this weekend.
When the ballrooms and hotel blocks were booked, Jamie Baillie was slated to deliver the keynote address—a role traditionally performed by the Party leader.
Instead, Baillie was the subject of the weekend's opening remarks, following allegations of sexual misconduct and his
resultant resignation
less than two weeks ago.
"This has been a confusing and difficult time," said Party president Tara Miller on Friday night. Previewing the tone for the weekend, Miller then redirected.
"Our Party set a precedent by treating these allegations seriously," she told the room of PC faithful. "In hard times, this proud Tory family pulls together."
Former premier John Hamm took the acknowledgement one step further.
"Jamie Baillie is a friend of mine…I am heartsick for the victim and Jamie's family."
But Hamm urged the Party to be "compassionate" and not to forget Baillie's accomplishments.
The 700 or so delegates then had a chance to meet the five candidates throwing their hat in the ring to become the Party's next leader.
Accountant Tim Houston, who was re-elected in May to represent Pictou East, promised to exempt taxes for Nova Scotians under the age of 26 up to $50,000.
Businesswoman and former nurse Elizabeth Smith-McCrossin, who was elected last spring in Cumberland North, took aim at the province's handling of health care.
Julie Chaisson, executive director of the Seaport Farmer's Market (who ran unsuccessfully in the spring election), announced her bid for the leadership just one day before giving her speech to delegates at the AGM.
Farmer John Lohr, the MLA for Kings North, promised to lift the ban on fracking and improve access and supports around immigration.
Former cabinet minister and current Cape Breton Regional Municipality mayor Cecil Clarke took aim at the government's failure to retain young people, stating Stephen McNeil's Liberals have "put the 'no' in Nova Scotia."
Former premier Rodney MacDonald, former MP Peter MacKay, MP Tony Clement and MP Lisa Raitt all made appearances at the AGM this weekend. They were joined by federal Conservative Party leader Andrew Scheer, who gave a luncheon address on Saturday.
Scheer favoured national talking points; bemoaning the Liberal carbon tax and targeting Trudeau's leadership. After the speech, he declined to comment on Baillie's resignation, only pointing to the
ubiquity of these types of allegations
in Canadian politics at the moment.
The rebuilding PC Party was quick to pat itself on the back for addressing sexual harassment while championing a bright future in its five leadership hopefuls this weekend. But some things, it would appear, don't change.
When the vocalist singing
O Canada
before Scheer took the stage used the old lyrics of "in all thy son's command," instead of the
new gender-neutral phrasing
, bursts of cheers broke out in the banquet hall.
The new PC leader will be elected, likely by next October. Meanwhile, it's up to the premier to call a by-election to replace Jamie Baillie's now-vacant seat in Cumberland South.