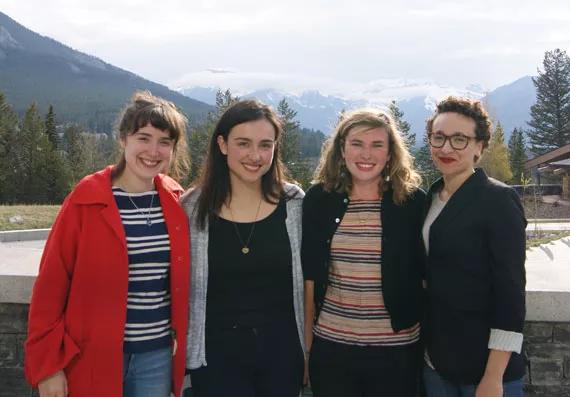 GUTS editors Nadine Adelaar, Cynthia Spring, Natalie Childs and Rebecca Blakey.
Up-tempo beats, positive vibes and sweaty bodies will fill The Company House on March 10 when GUTS holds a dynamic dance party, its first in Halifax. The online Canadian feminist magazine has already held several of the fundraisers across the country, and the creators say they're excited to bring the event to our seaside city.
Natalie Childs, senior editor, says the parties are a great way for the publication to bring people together in person. "What we're going for is definitely a really positive and open,"she says, "and also safe, feeling space where we get to express joy." Childs makes it clear that the philosophy behind the event is much the same as the philosophy behind GUTS itself: Creating a safe and joyful space for feminists of all genders to come together.
GUTS started planting roots here when Childs and founding editors Nadine Adelaar and Cynthia Spring met at the University of King's College.
"During undergrad, most of it was a reaction to what was happening in the classroom," says Childs about what encouraged her to seek out feminist discussion. "Just this feeling that some things were missing in what we were studying and some dynamics that were happening in our lives. Those conversations just happen so often on a very personal level for so long and I think it took a while for us to connect that to a bigger systemic sort of issue."
Childs and her friends would help to start a feminist collective at King's in order to talk about these kinds of issues years before GUTS.
Push back came from people who didn't see the need for such a collective, or feminism in general, but Childs describes this as "a good learning experience." Challenges like that, along with the everyday harassment and difficult conversations that Childs says come with being a vocal feminist, were also a part of the impetus for Adelaar and Spring to go from lecture hall wonderings to the wide world of online publishing.
Now, with extensive volunteer and reader support, GUTS has become a publication thats last issue garnered approximately 70,000 views and features a range of creative and academic work from Canada's fervent feminists. And the biannual magazine, blog and the mixer/dance party hybrids are creating the safe spaces that the publication's editors sought out during their undergrads.
Haligonians can expect more from GUTS, says Childs: "so many people who have contributed in the past live here and are incredible writers. I would really like to have a reading series."
Attendees of this event can expect swanky door prizes from friendly neighbourhood businesses and artists, and tunes from local DJs Goldilocks, Dentata and French Pretzel.
---
GUTS Dance: Halifax Edition w/DJs Goldilocks, Dentata, French Pretzel
Thursday, March 10, 8pm
The Company House, 2202 Gottingen Street
$10 suggested donation