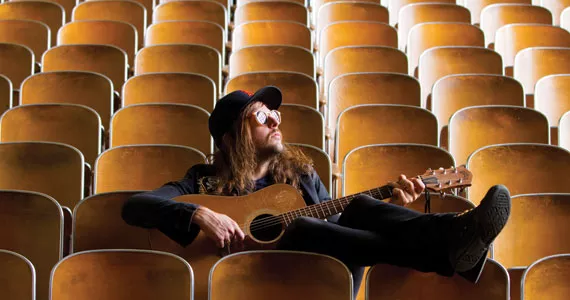 Whether you learned about it from your aging Deadhead parents, an older sibling or your Karpetface bandmates, we all know the totally wild Pink Floyd Dark Side of the Moon/Wizard of Oz sync-up. There is no doubt it blows your mind to this very day. No? You don't want to talk about if they meant to do it or not? Well, it got me on my own DIY sync- up YouTube binge which, by some unfelt holy intervention, led to me playing King Tuff's Unusual World over the opening credits of Newhart. Imagine the feeling in my guts as I experienced true synchronicity in that moment. Vermont is known for forested mountains, artisan cheeses, Ted Bundy, milk vodka, two US presidents, the birthplace of King Tuff and the made up town in Newhart. Forget Dark Side of the Rainbow---shout-out to YouTube.
The consensus around this year's Halifax Pop Explosion is that we're all lucky little ducks. We're getting Black Lips, Atlas Sound, even the heavy hitter El-P. But buddies, this King Tuff dude is the real deal. Kyle Thomas (Witch, Happy Birthday) is the hitmaster behind a collection riff-laden jams that, as I found out, sound especially cool when played over clips from Newhart. Take my word, this is the show you need to be thinking of if you're looking to make your Fogerty-worshipping father finally recognize you as his legitimate seed.
Life as a teenager in the sleepy state of Vermont---playing punk covers and recording songs that sounded like the Smiths---enabled Tuff to develop a specific tone he channels into a whole bunch of bands. Whether murky stoner metal or glammy garage, his projects all take on an anachronistic treatment, paying heavy credence to the feel-good/bad vibes of yesteryear. Cool for you. Cool for cool dad.
"The town I grew up in was kind of like a little college town except there's not really a college," explains Tuff. "There were definitely a number of small scenes over the years but I was always part of each one. When we were teenagers, it seemed like me and my friends had to create it for ourselves."
Creating it for themselves meant using a would-be bomb shelter as a practice space and playing at any given opportunity. Going on tour implied travelling to a town and hanging around until they could book a show before moving onto the next one.
The release of Screaming Skull on Sub Pop marks King Tuff's fourth release since the critically acclaimed Was Dead (2008). The single hints shades of New Order before Tuff creeps in with characteristic snotty vocals and powerful guitar leads. He'll be hawking copies of the seven-inch and his recently released self-titled full-length.
King Tuff's excited for donairs, garlies, Reflections Cabaret and the drive across New Brunswick, in that order. So extend some fine Maritimer hospitality and stop by Jessy's on your way to the show. "I always like to, uh, eat the regional delights," says Tuff. You can catch the LA by way of Vermont sitophile on Tuesday. —Alex Mitchell
King Tuff w/Long Weekends, Crosss, Astral Gunk, Tuesday, October 16 at Reflections Cabaret, 5184 Sackville Street, 9:30pm, $20