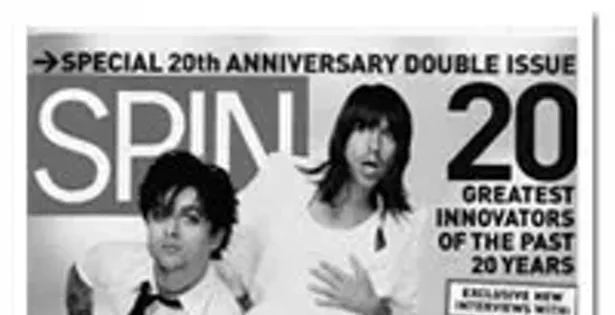 Scarcely a month has gone by this year when we haven't found ourselves at our computer in a rage blackout, pounding out an enraged letter to Spin. The music magazine has spent its quite commendable 20th year publishing lots and lots of lists. (It's possible we're in the minority here, but we think the "people heart lists" approach of magazine editors is more a product of cheap-assedness — list form equals lower word counts, so issues full and full of them cost less in writers fees — and, frankly, laziness, than the alleged gnat-like attention span of the modern North American reader. Show us the market research!)
The very thick October issue features the 20 Greatest Innovators of the Past 20 Years. Though we find ourselves able to see, for once, the list is not without its problems. Which of course we're going to lay out for you. Why else are you here?
Artists who probably belong here, no matter our taste or inclinations: Eddie Vedder, Frank Black, Conor Oberst, Andre 3000, PJ Harvey, Ian MacKaye, Anthony Kiedis, Shawn Fanning, Noel Gallagher, Chuck D, Trey Parker & Matt Stone, Beastie Boys, Bjork, Tim Burton.
Artists you would need a few drinks with which to convince us: Billie Joe Armstrong, Chris Martin (you've already got Oasis), Krist Novoselic (more like the Forgotten Member of Nirvana deserves something).
Artists who we say hell to the motherfucking no: Brandon Flowers (Dude has produced less than one hour of music, and his entire life is stolen from 1986!) and Courtney Love (Just because you give a crazy, revealing interview doesn't mean you can sing, write songs, or ever contributed to culture in any important way). And there are only three women worth anything in the last two decades, and they aren't Madonna? Tori? Missy? Alanis? The hell?
JT LeRoy: Fact or fictitious
Hot on the heels of Anablog crush Vanessa Grigoriadis' fab cover story on Conan O'Brien, New York mag hits another feature out the damn park with "Who is the Real JT LeRoy?" Stephen Beachy looks at the possibility the cult hipster writer LeRoy is not a real boy. That is, he doesn't exist. Fascinating shit. Pick it up this week.
Pick up a pen and write us. We love mail that's not selling us shit: Anablog c/o The Coast, 5435 Portland Place, Halifax, B3K 6R7