While we're waiting to see if the Halifax Mooseheads secure hosting duties for the Memorial Cup, see them (hopefully) score in the second round of the President Cup Playoffs—and fill the rest of your weekend with avant-garde art, pop-up plus-size shopping and more.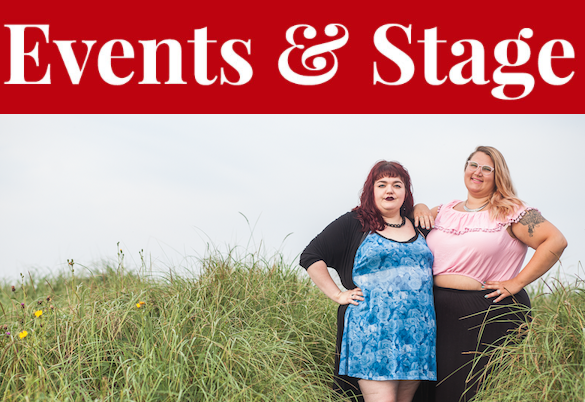 Meghan Tansey Whitton photo
Krista Kirby and Stevie Fort are the duo behind The Bounty, a curated thrift pop-up offering a range of plus sizes headed to Lost & Found this weekend.
Halifax Mooseheads President Cup playoffs round two
Friday, Saturday
Things continue to heat up in the President Cup playoffs as the Mooseheads, who last won the playoffs in 2013, bring a stacked lineup to these second-round matches at the Scotiabank Centre. Following a 4-1 series victory over Baie-Comeau, we're feeling confident in Halifax's odds as they face off against the Charlottetown Islanders. more deets
HFX Beverage Expo 2018
Sunday
If you've been sticking to your Dryuary resolutions for a few extra months—or if you're just a fan of non-alcoholic sips like coffee and kombucha—get to the Dalhousie Student Union building for this celebration of various east coast bevvie options. more deets
Waiting For Godot
Thursday, Friday
Sky Curtis directs this three-night run of Samuel Beckett's 1953 classic play that sees two characters, Vladimir and Estragon, discussing a variety of topics while they wait for someone named Godot who never arrives. Catch it at The Waiting Room theatre. more deets
The Bounty spring pop-up
Thursday, Friday, Saturday, Sunday
Plus-sized pals, get your hands on chic second-hand offerings at this curated pop-up at Lost & Found that'll get your wardrobe ready for warm weather. more deets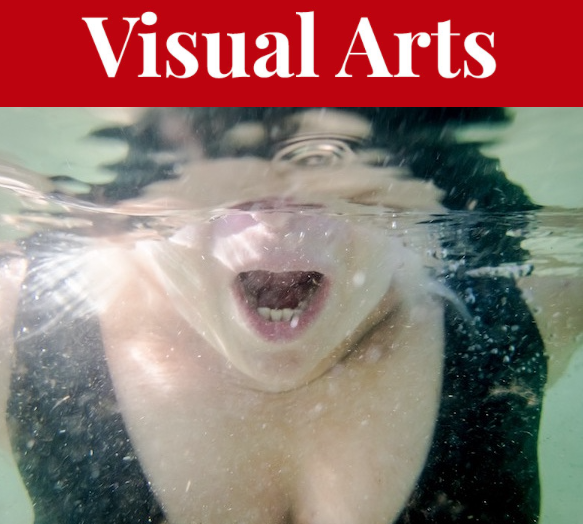 Lynn Ellis photo
Lynn Ellis explores how elusive it is to know yourself with a set of underwater self-portraits at ViewPoint Gallery.
Juice
Friday, Saturday, Sunday
Jimy Sloan's abstract head-trips—assembled elements of topography and drawn forms—combine in pictorial space to create unique visual environments. If the canvases' strong lines don't get you, the bold colours in collision-course with each other will. See them at Studio 21. more deets
The Closer Together Things Are
Saturday, Sunday
Saint Mary's Univeristy Art Gallery describes this show best: "The Closer Together Things Are explores the space between difference and similarity that arises from intense observation and consideration. It focuses on the proximity of time, heredity, frottage, palette, concept and presentation. Under close scrutiny, the most mundane objects and situations can compel us." more deets
In Search of Identity
Thursday, Friday, Saturday, Sunday
Lynn Ellis's search for self-identity sees her creating images about how elusive it can be to know yourself: the photos, snapped underwater, see Ellis's eyes attempting to focus as exhaled bubbles cloud her view. See the beautifully apt metaphor at ViewPoint Gallery. more deets
(body of work)
Thursday, Friday, Saturday
In Karin Jones' exhibition at the Anna Leonowens Gallery, objects of adornment are used to explore the ways "the historical narrative of slavery has shaped the identities of people of African descent living on North American soil," the artist statement offers.
more deets
Submitted photo
Video Games Live, a show that sees a full symphony tackle gems like the Sonic soundtrack, arrives at the Rebecca Cohn Auditorium.
Washing Machine album release show w/Booji Boys, Surveillance, Valerie
Thursday
Members of Halifax favourites Long Weekends, Moon, Frail Hands and Science Project combine their sonic tonics for Washing Machine, a post-punk, power-pop band dropping a new EP with '80s indie energy to spare. Wear your dancing shoes to this Seahorse Tavern show. more deets
Brothers album release show w/T. Thomson, Floodland
Friday
The 2016 gold winners of the Best of Halifax Readers' Choice Award for Best New Artist/Band, Brothers are finally dropping the full-length that fans of their acoustic-guitar-backed hip hop have been waiting for. Catch snippets of the effort while local gems T. Thomason and Floodland share the bill at The Carleton. more deets
Video Games Live
Friday, Saturday, Sunday
It's a night at the symphony that'll unlock your inner Princess Peach: A full orchestra and choir cover your favourite video game tunes while scenes are projected in the background at the Rebecca Cohn Auditorium. more deets
The Creepy EP party feat. Ghettosocks, Uncle Fester, Aquakultre, Kxng Wooz
Friday
ChanHays celebrates a new EP with an all-star supporting cast including CBC Searchlight winner and neo-soul master Aquakultre, OG MC Ghettosocks and rhyme slayer Kxng Wooz from 8pm-12am at Alteregos Cafe. An afterparty at Lion & Bright (also featuring verses by Ghettosocks) sees DJ R$ Smooth spin joints by Beyoncé and Jay-Z all night long. more deets