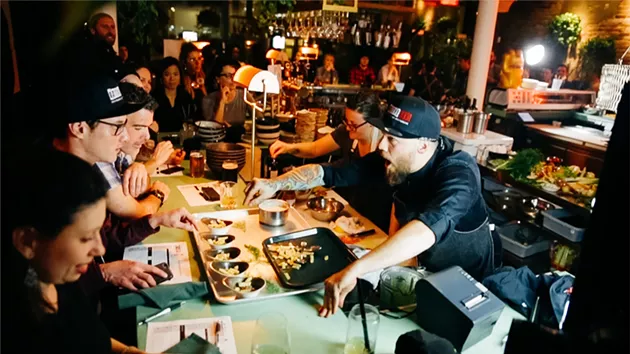 Submitted
A BattleApps showdown in Montreal
Tonight,
BattleApps
invites to taste what your Haligonian chefs are made of—in twenty minutes.
The Toronto-based chef battle (put on by
Underground Chef Company
and McCain) is coming to the east coast to serve up some quick dishes at
Tempo Food +Drink
. Halifax is one stop on an eight-city chef battle tour.
Chefs in the battle create three dishes from secret ingredients, including the audience in a fast-paced kitchen experience. The catch? They'll have just 20 minutes to whip up each dish.
"There are ideas that go through my head in what I can do in that amount of time," says
Barry Mooney
, competing chef from
Gio
, about preparing for battle. "The issue for me is I don't want to think too hard about it."
Mooney has been in the chef game for 15 years and focuses on easy cooking. He uses fresh products people recognize when they chow down.
"I just try to keep it as simple as possible, where everything kind of stands out on its own," he says.
His competition is
Dwayne MacLeod
, chef at
The Barrington Steakhouse and Bar
.
MacLeod, a chef of 18 years, infuses his dishes with Asian-Canadian flavours. He wants to focus on the Halifax plates he can bring to the table.
"I try to think outside the box a little bit," he says. "The food style really depends on what we actually get. I really want to showcase a lot of east coast style, what's out there and what we do."
You can watch these two go grilling head-to-head at Tempo at 8pm. Doors open at 6pm and entry is $15. Now, who's hungry?