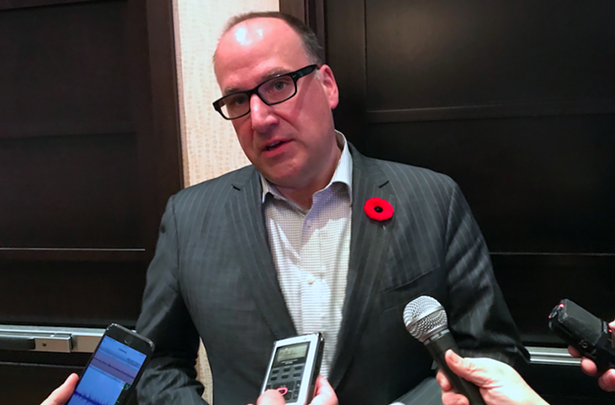 Maritime Football isn't releasing many details about its season ticket campaign.
The company announced last week that 5,000 pre-sale deposits have already been made towards season tickets for Halifax's unnamed, unconfirmed CFL expansion team, just two weeks after the ticket drive was announced.
But 5,000 tickets doesn't equal 5,000 butts in seats. Pre-sales on season tickets require a $50 deposit and are limited to 10 per account. Maritime Football isn't saying if the number of accounts is closer to 5,000 or 500.
Nick Vatour, a National PR flack hired by MFL, would not specify the number of buyers versus deposits or offer any breakdown of where in the Atlantic provinces the tickets are being ordered.
"MFL has received a broad base of support across the region from both individuals and corporate entities both large and small," states Vatour.
Maritime Football has set a target of 12,000 season tickets deposits for the potential 24,000-seat stadium it
wants to build on lands at Shannon Park
. The company is hoping the down payments will prove there's a market for a CFL franchise in Halifax, pushing along discussions for the city and province to
help finance
a massive new stadium project.
City hall expects to receive a detailed business analysis from Maritime Football for its stadium bid sometime in "coming weeks." From there, HRM spokesperson Nick Ritcey says it'll take several months for municipal staff to assess the financial case before presenting any recommendations to city council.
Ritcey says the expectation is
MFL's
entire proposal will be made public as part of staff's report to
council
.
Ticket sales info is also expected to be shared with the municipality and subject to independent verification. Ticketmaster has control of both the pre-season purchase data as well as the deposit money, which is being stored in a non-interest bearing account.
Speaking last week on SportsNet radio, CFL commissioner Randy Ambrosie boasted that the early ticket commitment comes with "no marketing." Save, of course, the live-streamed press conference announcing the drive earlier this month.
Ambrosie
also promoted the league's Atlantic expansion plans by officially declaring Halifax as exciting now.
"It's not your grandfather's Halifax,"
Ambrosie
said. "It's a much more robust Halifax and you can feel it when you're there."
The new CFL expansion team's name, likely the
Atlantic Schooners
, will be announced Friday, November 23 as part of Grey Cup weekend celebrations.