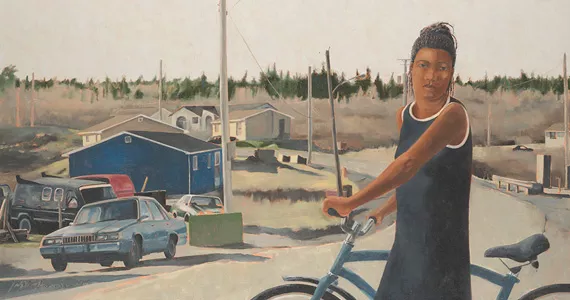 Edith MacDonald's evocative works will be discussed on Saturday
Edith MacDonald lived in Africville and worked at a convenience store, and she was also a masterful painter. "She was an artist active in Africville when most people didn't think there were any," says artist and curator David Woods. "Nobody knows much about her work, but she was painting at the end of the 19th century and turn of the 20th century. It's interesting that people tended to ignore that there were artists creating masterpieces equal to the work of anyone else at that time."
MacDonald is one of many black Nova Scotian artists whose work will be discussed at the upcoming artist talk, Discovery: The Story of African Nova Scotian Art and Artists on Saturday, February 18. Woods will be joined by Dr. Gene Daniels, chair of NSCAD's foundation year program, to address 100 years of African Nova Scotian art.
This event is part of a month of exhibitions put on by the Black Artists Network of Nova Scotia. Founded in 1991, BANNS is a non-profit, multi-disciplinary arts association seeking to strengthen the African Nova Scotian arts community and increase the representation of African Nova Scotian artistry in Nova Scotia. Throughout African heritage month BANNS will showcase contemporary and "uncovered" artists.
Woods, who is also the artistic director of BANNS, was instrumental in the uncovering MacDonald's work. In 1998, as part of an exhibition for the Art Gallery of Nova Scotia he undertook a research project to seek out the artwork of African Nova Scotians. "I decided since the galleries had had almost no history of showing or collecting African Nova Scotian art, I decided to go visit all the different communities and do a community by community search. That's what led to finding out about a lot of different people. It was sort of a door to door thing."
At the time of this search in the late 90s, Woods explains, black Nova Scotian art wasn't being represented in established galleries. "There was no place to find the art, you couldn't Google it or go to the Art Gallery of Nova Scotia because they would say, 'Well, we don't have any black art.' At the time a lot of people didn't think black Nova Scotians had created any art of value, in the establishment anyway." When Woods showcased the art he uncovered in 1998, it was the first time the work of many of these artists had ever been shown publicly---and there was record-breaking attendance.
The shows on display this month continue this effort. Angel Gannon is a painter and woodcarver whose pieces are at the Tantallon Public Library throughout the month. Her work explores feminism and African Nova Scotian history, focussing on family roots in Africville and East Preston. NSCAD graduate Justin Augustine's work will be shown at the Passage to the Caribbean restaurant. Augustine is a contemporary painter who addresses the dislocation of the individual, personal memories and African Nova Scotian experiences. Woods' own work exploring the community experience in north end Halifax and North Preston will be at The Company House.
When asked whether he thinks the Nova Scotian art establishment is more receptive now than it was at the time Edith MacDonald was painting, Woods says no, but stresses the events of this month are not meant to be revolutionary. "I'm showing the artwork because the artists need to be shown," he says. "The larger mission of converting people's opinions, that's another issue."
Discovery: The Story of African Nova Scotian art and artists talk, Saturday, February 18 at Halifax North Branch Library, 2285 Gottingen, 2pm, Free