DYLAN CHEW
The way we were.
The Dome, one of Halifax's largest nightclubs, rolled out a controversial series of dress code and policy changes last week in an effort to upgrade its image.
The club's new dress code—announced
in an infographic posted to its Facebook
—includes a ban on tank tops, "undershirt" style white t-shirts, baggy or ripped jeans, sportswear, crocs and white sneakers.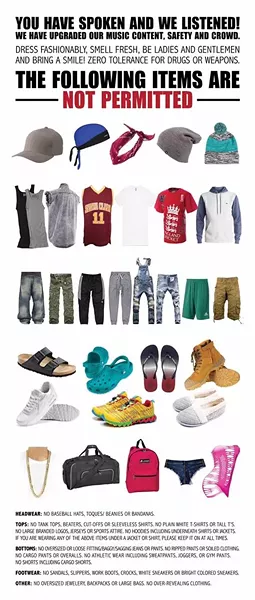 Alex Elshimy, new vice-president of Dome-owning Grafton Connor Group, says the policies are part of an effort to change the club's reputation.
"We respect everyone's individuality. We, of course, want people to be able to wear whatever they like, but we have to make sure that it matches our high standards; that it matches the dress code," says Elshimy.
The club's post went viral as current and former Dome patrons took to Twitter and Facebook to comment on the new rules. Some celebrated the updated dress code as a step towards a classier reputation for the notorious "dirty Dome," but
many others
have called
the policy "racist" and "classist" for appearing to be aimed specifically at Black men. One comment online called the new dress code "nothing short of racial profiling."
Elshimy thinks these allegations are taking the policy out of context.
"People from all different backgrounds and all different races, they all wear the same thing," he says. "I have hoodies, you have hoodies, everyone has hoodies. So there's nothing in the dress code that's associated with racial profiling because otherwise, we would be stereotyping."
In response to some of the blowback, the Dome left a comment on its Facebook post claiming bouncers will "have to use some discretion" when deciding who will and will not be turned away for wearing banned clothing items.
Halifax DJ Brandon Tolliver, who performs under the name DJ
Douvet
, thinks this dress code just gives security an excuse to discriminate against certain patrons at the door. He says he's had such "disrespectful" experiences at the Argyle Street club before.
Kylee Nunn
"...if they have a certain idea of what sort of people they want in then they're sending a clear message, and they've been sending it for a while," says Brandon Tolliver.
"One time I wore a hoody and literally a person right in front of me went in, a person who happened to be Caucasian, but then with me they were looking at the banned list and grilling me, making me seem like I was unwelcome, and basically looking for a reason to not let me in," Tolliver recalls. "This seems like a way to step it up further. If there are certain types of patrons that they don't want to let in, they have a very easy way to do that now."
Elshimy is aware of the Dome's reputation for discrimination and says that part of the club's upgrade includes new customer service and security training for staff. A full-time manager and supervisor have been hired for each bar within the Dome complex to monitor the crowd and manage guest complaints. Elshimy says the club is also working on upgrading safety with new ID scanners, and a no-glass policy.
"If there's any situation with security where the guest does not have a pleasant experience, or there's any allegation that they were not treated the way they should be treated, they should immediately ask for a manager," he says.
Further changes, like remodelling the complex maze of bars, are still to come. On top of that, the bar has hired a full-time content director to book entertainment and, at long last, is retiring its dance poles. The changes are all being implemented based on feedback from a public survey, in an effort to rebrand the Dome as an upscale nightclub.
"If you look at some of the things they said, it's so embarrassing. Like, oh my god, this is the kind of place we have? The reputation of this place is the 'dirty Dome,' you know?" says Elshimy.
criticized in the past
for over-serving and ignoring allegations of sexual harassment in the club. Elshimy hopes that, with time, this reputation will change.
"Our guests want us to have higher standards and this is what we're providing—a higher standard, that's all. I think the reputation going from a 'dirty Dome' to a world-class Dome is going to take time for people to adjust to," he says. "I promise you, once we're done with this project, the 'dirty Dome' will no longer be there."
To Tolliver, however, a change in reputation is merely an excuse.
"I don't know if they want to improve their reputation. I mean, of course, they want to make money, they're a business. But if they have a certain idea of what sort of people they want in then they're sending a clear message, and they've been sending it for a while," he says.
For anyone who feels unwelcome under the Dome's new policies, Tolliver suggests they take their business elsewhere.
"I think it's important that people understand that if you're being disrespected by an organization or a company, you should exercise your right to just not go."