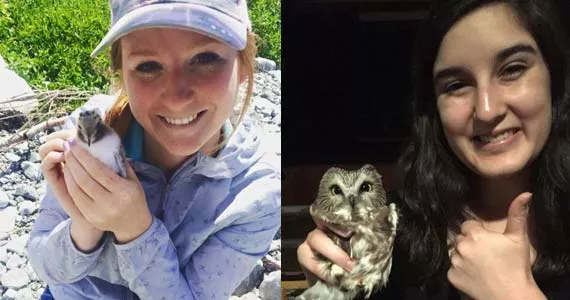 In conversation with Manon Holmes & Chloe Roy, third-year Bachelor of Science students
---
Manon: I chose Université Sainte-Anne because it is a small, French university. Everybody knows everybody and are always willing to help you. There is no competition—everyone is friendly and it is a great atmosphere.
Chloe: I love the size of the classes! It's easier to talk to the professors. It's easier to learn because with fewer people you can get more out of your interactions. You don't feel the pressure of so many people requiring attention that you don't feel like asking a question—it's extremely comfortable.
Manon: The Bachelor of Science is a requirement to apply to veterinarian school, one of my dream jobs, or if I want to pursue a Masters Degree (another of my aspirations), I can transfer to the new Bachelor of Biology (four years) now available at Sainte-Anne. I also had the chance to participate in a research project during the summer, which helped me realize there is a lot of career options you can pursue in sciences.
Chloe: Since I was a little girl I've always wanted to be a veterinarian, but I am also interested in a career involving research for animals or animal protection. There are many classes that are very connected to my dream career—zoology and animal sciences, for example. It also shows through in the projects we do: With the help of my biology teacher, I am currently trying to discover the winter ecology of the Northern Saw-Whet Owt in its extreme northeast distribution. We are gathering data both in the field—habitat choice for predation and rest—and in the lab—nutrition.
Manon: For prospective students, Sainte-Anne is a great choice if you want to have some opportunities that you would not get the chance to have at a bigger university. There is always something going on or projects you can help with. Take advantage of all the opportunities you can get!