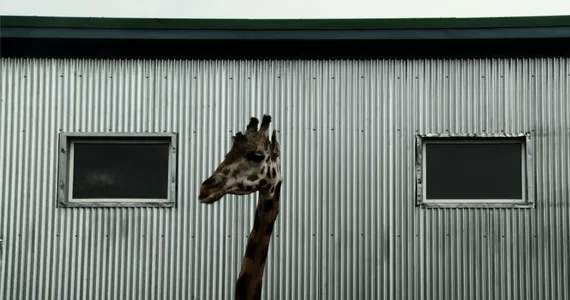 Denis Côté's Bestiaire highlights the absurdity of the zoo.
Born in New Brunswick and living in Quebec, Denis Côté may be one of Canada's most critically acclaimed filmmakers. His films can be hypnotic, dense and potentially impenetrable. Lucky then that he'll be in Halifax this week to answer all your questions.
"I wish people would see films without the filmmaker," he says, "but sometimes it's necessary to be there and tell them, 'Look, don't be afraid.' People can see the filmmaker and hear what he wanted to do. They suddenly understand and are with you, and are happy because they're opening their minds to something else."
The auteur will be screening his mesmerizing feature, Bestiaire, Sunday night as part of this year's Halifax Independent Filmmakers Festival. Called "one of the best films you may have missed in 2012" by The New York Times, the film has already played in 75 festivals across the world. It's a raw, unflinching look at what Côté calls the absurd ballet of the modern zoo.
"I didn't want to say anything for or against zoos," he says. "I asked myself, 'What do I think about zoos?' Do I think they're sad places? No, not really. Do I think they're cruel places? No, not really. I thought, 'It's an absurd place.' A bunch of humans asking for money from other humans to watch animals. To me, that's absurd."
Absurd or not, festival coordinator Nelson MacDonald is ecstatic to have it. "If HIFF is supposed to bring in alternative and artist-driven films, personal projects, then Denis' film is one of the top ones going," he says. "We're pretty thrilled to have him."
Only seven years old, HIFF has grown from a three-day event to this year's week-long film program. Visiting artists like Côté and Ottawa's Ariel Smith will present their work alongside locals like the Atlantic Filmmakers' Cooperative's artist-in-residence, Jeff Wheaton. Aside from the shorts, music videos and experimental films screened throughout the week, a series of industry panels will feature everyone from Andrea Dorfman to Andrew Bush and Joel Plaskett discussing filmmaking, crowdfunding and social media. It's a loaded slate, but what really sets HIFF apart is the festival's commitment to abstract, artist-driven films.
"It's a different sort of festival than AFF," says MacDonald, of the other big Halifax-based film festival. "We do cover local content that they would cover as well, but our visiting filmmakers and our focus is really on alternative films."
Côté agrees. The director hasn't visited Halifax since 2001, when his short film, Seconde valse, won best editing at that year's Atlantic Film Festival. The organization's programming choices are partially to blame.
"I was there 12 years ago, and since then I've had real problems with them," he says. "I think they're very mainstream, and they don't take much experimental stuff. I thought it was over, and then these guys [HIFF] came and I felt, 'Oh, great. I can return to Halifax.'"
Though he readily admits many of his films aren't "box office friendly," Côté praises the necessity of festivals like HIFF, which offer a platform for abstract, highly personal artistic works.
"It's the last place you can show your stuff," he says.
MacDonald, who readily admits some of the films at HIFF won't be the easiest to digest, still hopes the local film community and all Haligonians will come out to watch something unique. "It'll be a bit of a challenge," he says, "but a lot of people haven't had the chance to really expose themselves to that. So, take a risk."