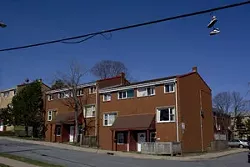 Using a successful US drug-intervention program as a model, a collection of community organizations is working with the Halifax police department to address so-called "open market drug dealing" in Uniacke Square. The program is called the Uptown Drug Market Intervention Pilot Project, and it is the first of its kind in Canada.
Uptown uses a carrot-and-stick approach. "We conducted a series of undercover operations to identify the people selling drugs," deputy police chief Bill Moore told the board of police commissioners Monday. "Then, we basically called them into a room together with the community groups---LOVE, CEED, the reverend Rhonda Britton, and some others---and we told them, 'we have the evidence, we can charge you.' The community groups said, 'this behaviour isn't acceptable, we won't stand for it, but we're here to help you if you want to change.'"
Moore explained that of those identified as drug dealers, only those that met certain criteria could qualify for Uptown: they could not have been involved in violent crime, or have an extensive history in dealing, they must be under 40. Five potential candidates were identified, and four agreed to the program.
The community groups offer the following support: The Centre for Entrepreneurship, Education and Development has its Second Chance program, which helps young people entangled with the law develop skills to straighten their lives out. Leave Out Violence provides the five-month Skills Link program, which helps people explore career options. And Metroworks offers its 30-week Options program, which helps people who face barriers, like legal trouble, to getting jobs.
Moore explained that if the participants remain committed to the program for four months, the police department will not file the drug charges against them.