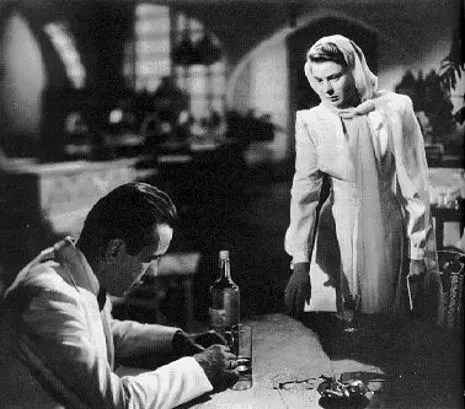 A typically romantic Valentine's dinner in the HRM, circa 1942.
In all the gin joints, in all the towns, in all the world, there'll be Valentine's Day specials. Of course, we're only paraphrasing
Casablanca
, and to be honest, there are specials celebrating the day for lovers in far more than just Halifax gin joints. For instance, both
Boston Pizza
(1858 Granville Street, 422-8600) and
Freeman's Little New York
(6092 Quinpool Road and 1726 Grafton Street) are both offering heart-shaped pizza for the occasion. The Freeman's special is the pizza as part of a three-course meal, including a bottle of wine, for $69.99. Over at
Bitter End
(1572 Argyle Street, 425-3039) the special includes an appetizer to share, any two entrees, dessert to share and two glasses of champagne, all for $50. (Bitter End also has gin, though they might bristle to be known as a "joint.")
Tug's Pub
(1549 Lower Water Street, 425-7610) has lobster specials all month, including Sunday, February 14, where you can enjoy a pound and a half of lobster for $19.99. You can try
Season's Bistro & Wine Bar
in the
Atlantica Hotel
(1980 Robie Street, 490-3331), running its Valentine's Day special from February 12 through 14. For $75, you'll have a four-course meal, with three choices for the entree, plus a milk chocolate fondue for two. And at
Fid Resto
(1569 Dresden Row) there are three seatings on February 14, with a special menu planned and available only from February 11 through Sunday. Visit
fidresto.ca
or call 422-9162 to make reservations.