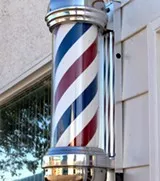 It was just around this time last year that vandals broke the front window of
Phat Luong
's barber shop (2170 Windsor Street, 423-6596). Then it happened again in early March, 2011. The first instances of vandalism to his business in the 14 years he had owned it, happening in such a short period, inspired Luong to invest in shatterproof glass and an expensive close circuit camera system.
Then, last weekend, someone walked up beside the business and broke the oil-tank line, spilling hundreds of litres of oil onto the property and into the basement.
"Lucky that I have insurance, because it covers vandalism," says Luong. "There has been some clean-up. They have been going into the basement, they're clearing out one section at a time,"
Luong's camera captured images of an individual walking from the sidewalk alongside the house and a couple of minutes later walking away, though the person's face is obscured by an umbrella.
"The police say this guy deliberately did it," says Luong, who has no idea who would target his business. He thinks, because of the timing, that it might be the same person who broke his window. "I don't want this to happen to anyone else. This is an environmental disaster. They tried to destroy my family."
A few weeks ago the front window of The Last Word (2160 Windsor Street, 423-2932) was shattered by someone throwing a rock through it, though owner Wayne Greene says the police caught those responsible. He says that was a random act, unconnected to what happened at Luong's barbershop.
"I had my window out three times, they were drunks every time," says Greene. "This is a guy who went up into the backyard with a purpose."