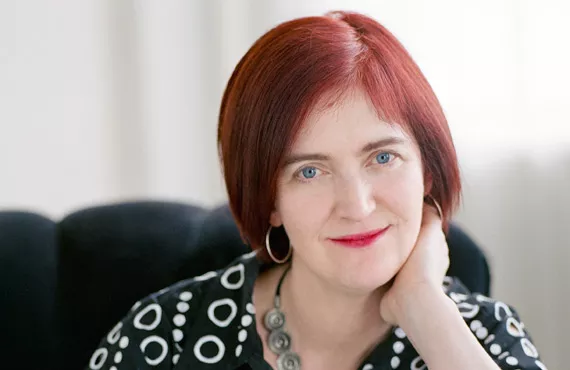 Friday the 13th just got lucky for Halifax's literati. Irish-Canadian writer, Emma Donoghue, author of Slammerkin, The Sealed Letter and most famously, Room, is in town to take part in Saint Mary's annual Cyril Byrne Lecture.
Donoghue, who has been publishing books since the 1990s, became a household name in 2010 when Room was released to wide acclaim and commercial success. The book tells the story of a young boy named Jack who is raised in captivity with his mother, and was inspired by, although not strictly based on, the true story of the Fritzl family in Austria.
Many of Donoghue's books are rooted in obscure true stories, which she fictionalizes with delightful invention. "There's an attempt to dig up and bring to full imaginative life those nobodies that history in the traditional sense has neglected," Donoghue says. "Women, first, but also peasants, lowlifes, queers, freaks." She has written about a convent school in 1970s Dublin, a murder in 18th-century England, and a cross-dressing frog catcher in San Francisco in the 1870s. "Variety," she says, "is the best way to spice up the business of writing alone, day after day, decade after decade."
Even with such a wide-ranging oeuvre, Donoghue will likely be talking about Room for awhile yet. The film version is being released this year, for which she has also written the screenplay: "Luckily I remain hugely interested and invested in the existential questions raised by Jack's story, and fascinated by the process of, as screenwriter, helping to translate the novel into the other language that is cinema."
---
Cyril Byrne Memorial Lecture delivered by Emma Donoghue
Friday, March 13, 7:30pm
Saint Mary's University McNally Theatre, 923 Robie Street
Free
www.emmadonoghue.com