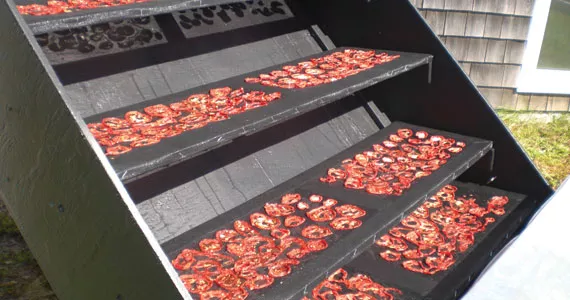 A study at the University of Chicago in 2006 found that adopting a vegan diet has a greater impact in the fight against global warming than switching to a hybrid car. In a 2006 report by the United Nations Food and Agriculture Organization, it was estimated that 18 percent of annual worldwide GHG emissions come from the farming of cattle, buffalo, sheep, goats, camels, pigs and poultry. And in The World Peace Diet, author Will Tuttle writes, "Everyone on earth could be fed easily because we currently grow more than enough grain to feed 10 billion people; our current practice of feeding grain to untold billions of animals and eating them forces over a billion of us to endure chronic malnutrition and starvation while another billion suffer from obesity, diabetes, heart disease and cancer linked with diets high in animal foods."  
A solution may seem radical to some: It's to avoid eating meat products altogether, even those produced using organic and non-factory means. There are those here in Halifax who preach---and practice--a non-meat lifestyle, for reasons of their health and the environment.
 The question is, how do they live vitally on a vegan (no animal products but cooked vegetables) or a raw diet (raw vegetables only) in a colder climates like ours? According to Georgia Barnwell, a local raw food advocate and educator, it's possible with a little preparation.
Last winter she bought very few greens from the supermarket, instead enjoying nutrient-rich ingredients that she grew in her own home. "Growing sprouts is easy," she says. "I can grow them in in trays of soil right in my kitchen."
A raw food and vegetarian food teacher at Satisfaction Feast restaurant in Halifax, Lyz Sutcliffe has other suggestions for the raw food diet. "I love to make raw mac and cheese," she says. "I just make the noodles out of sliced zucchini and blend up macadamia nuts for the cheese. All the food you love can be made with raw ingredients."
Sutcliffe sometimes incorporates local frozen cranberries into her diet for variety, and finds that her dehydrator is very helpful in the winter---especially for tomatoes. Dehydrators remove moisture from plants like sun-drying but keep the food alive.
Raw food preparation may seem labour intensive and daunting, but it's worth considering that buying an organic banana shipped from Ecuador your ecological footprint would still be far less than if you opted for organic milk, due to the impact of raising the livestock. "I also can't live without avocados," says Barnwell, "and Boates local apple cider vinegar."
And it may be especially hard to consider completely changing your diet overnight. A gradual approach is a good idea, too. "Eating raw plant foods is important whether you change your diet to 50 percent raw [or] to 100 percent," says Sutcliffe. "I like to go raw 30 days when I feel the need to rejuvenate. I always feel so great afterwards."
It's a good idea to take your time, to do research while exploring the possibility of dietary alterations--- whether inspired by animal rights, sustainability or avoiding chemicals. And while the idea of raw vegan or just vegan food often gets ignored or ridiculed for being too extreme, culturally we've been raised to believe we need milk and meat to be strong. But consider one of our closest relatives in the animal kingdom, a vegan by nature, subsisting on fruits and greens: the gorilla.
Root Cellars
You can have the beautiful variety of the farmers' market stored in house or your yard all winter long. Root cellars are a no-energy way to store fresh fruit and vegetables through the coldest months.
These structures can be built into the ground, your basement or even a cold room in your home. In the old days it was common to find a root cellar built in the backyard. A trap door would lead you down to a little cave, which would have a dirt or clay floor.  
Windhorse Farm, the eco-retreat and learning centre, has run its own root cellar for 21 years. The farm came with an existing root cellar, built in 1914, in the bottom of a barn. The cellar can provide food for up to 40 guests a day. "I am able to keep root vegetables like potatoes, turnips and beets all through winter and cabbages the first few months of winter," says Windhorse's Jim Drescher. He recommends outdoor root cellars. "You just need to dig down in your yard about four feet to create your space. A hole of about six feet wide by 10 feet long should provide enough room for a small family."
In order to build a cellar inside your house, simply find a dark corner on the north or cooler side of your home. The temperature needs to be zero to five degrees Celsius with humidity levels at 80 percent. Make sure to choose a spot with a window to provide ventilation, which will help prevent mould. Keeping the window covered with a black curtain will keep potatoes from sprouting. Make sure your produce will not be exposed to chemicals or fumes.  
  Apples, cabbage, carrots, cauliflower, grains, onions, squash, potatoes and even tomatoes can be stored in root cellars. (Meat, however, cannot.)
The Ecology Action Centre (ecologyaction.ca) is a great place to learn about environmentally sound practices in Nova Scotia. Check with them in April to take part in their root cellar workshop.