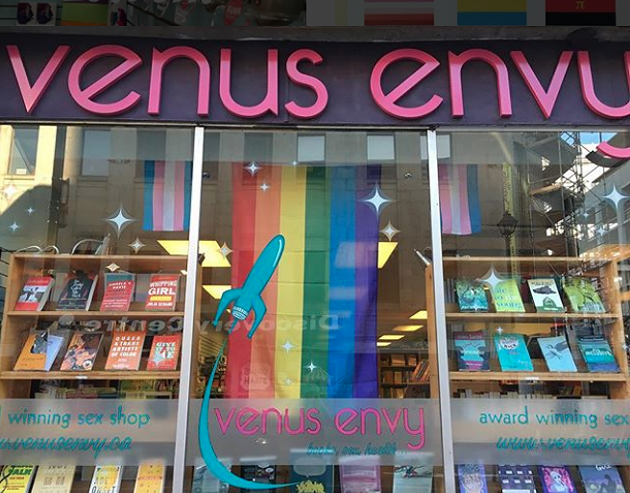 "It's pretty amazing for any small business to hit 20 years and I feel particularly proud a business like ours has been able to last so long. It speaks to something special about Halifax, it supports small businesses and people looking for products like ours," says
Marshall Haywood
of
Venus Envy
's (1598 Barrington Street) big anniversary. Halifax's favourite source for sex-positive education and exploration will ring in two decades of doing its thing this Saturday, May 19.
The momentous occasion stirs up a strong urge to celebrate, which the shop's keepers will do by hosting a massive sale (everything is 20 percent off), giving away freebies (first 20 shoppers to spend $25 get a gift) and good, make that great, vibes.
We Vibes
that is, they'll draw for an anniversary collection valued at $260 on Saturday and have been giving out toys daily via Instagram. "We're pulling out all the stops," says Venus Envy's
Christine Oilier
, who's behind the festivities, which also include an enviable party Saturday night at Art Bar (1873 Granville Street). Doors open at
9pm
for drag and burlesque performances, and lots of dancing. And the shop's founder
Shelley Taylor
will be in town, too.
"She started the store as a very teeny tiny space on Inglis Street, it was volunteer staffed and she got some pushback opening a sex shop," says Haywood, who bought the store from Taylor in 2008, of the early days. "I think attitudes have changed over the years—you can buy sex toys on Amazon and in pharmacies—but I think the fact is that even with more open-mindedness, people still want to have that connection."
If you've had such a connection, and would like to share a Venus Envy memory, musing or anniversary shout out, send it to shelley@venusenvy.ca.