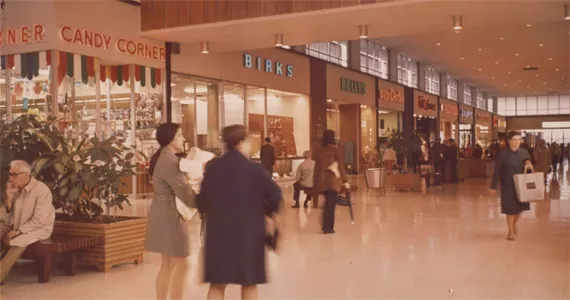 courtesy of Kelly's Luggage
1960s-era Kelly's Luggage storefront.
Every Canadian schoolboy and girl knows Canadian confederation took place on July 1, 1867. At that time, Halifax was a bustling port city. This was long before the bridges, but Samuel Cunard had already started a steamboat ferry service 30 years earlier between Halifax and Dartmouth to get people across the harbour. The main streets we know today were in place, though many of them would have been cobblestone or brick, if paved at all. Barrington was called Pleasant Street in the south end and Campbell Road in the north, but Chebucto, Quinpool and Spring Garden Roads were all here.
And so was Halifax Seed. A year before confederation the agricultural and horticultural supply store was incorporated, though it wouldn't move to 5860 Kane Street in the Hydrostone until the late 1960s. At its beginning it could be found on the Halifax waterfront. When it was started it was owned by Steele Briggs Seed Co. of Toronto, with locations in Hamilton and Winnipeg.
Fred Tregunno, with his wife Molly, bought the company in the early 1900s. "My great-grandparents both worked for Steele Briggs," says Emily Tregunno, daughter of the current owners Nancy and Tim Tregunno. "That's when they moved into the wholesale with seed packages, garden seeds, forage and grain seed."
In 1917, the store was damaged during the Halifax explosion, so relocated to Granville Street, situated on the ground floor in the NSCAD building. The echoes of the business in that locale can be seen in the name of the NSCAD art gallery, The Seeds Gallery, now located at the school's Marginal Road campus.
The move to Kane Street was precipitated when the company outgrew the downtown space. "In the 60s and we would have been doing so much more wholesale, getting into shipping and tracking," says Tregunno. "Downtown in that location, just not possible."
The company continues to thrive with its garden centre-focussed store here and another location in Saint John, NB, which is more about power equipment.
Emily Tregunno is the fourth generation of her family to work at the store, along with her husband Fraser Moir and sister Allison. "We continue to specialize in the garden seed, which is where we started years ago," she says. "It's so trendy now to be growing your own, so that's a good thing. We sell all the equipment you'd need to grow whatever you want."
Ten years after Halifax Seed was founded, in 1876, they were joined in the Halifax retail landscape by another business that's still around today: Kelly's Luggage.
John F. Kelly started the store, manufacturing and repairing horse and oxen harnesses. It was located on Granville Street, just adjacent to the Royal Bank building near the corner of George Street. "We were there for 100 years," explains owner Christopher Hobrecker. "Since then we've been in a number of different shopping centres," which currently include The Halifax Shopping Centre, Park Lane Mall and a repair centre situated in Brunswick Place at the corner of Brunswick and Cogswell.
Hobrecker's great-grandfather Alexander purchased the store in the 1937, making Christopher the fourth generation of Hobreckers to run the business. Until the late '30s, the business had a four-ton wagon driven by two Clydesdale horses, each with 50 lbs. of brass ornaments on their harnesses, to deliver the goods in Halifax. "We did a lot of work during the war effort on harnesses and that sort of thing," he says. "Then we moved away from repairs and into luggage and leathergoods. Once the travel age started to come about people needed luggage."
It's Hobrecker's understanding that Kelly's Luggage is the oldest luggage and leathergoods store in Canada and second-oldest in North America. These days they carry a number of Canadian-made products and international goods, from handbags to backpacks, travel goods to umbrellas and wallets.
A furniture store called Glubes was at 2128 Gottingen Street, back in the mid-20th century when Gottingen was Halifax's premiere shopping district, filling homes all over Nova Scotia with the best brand-name sofas. But when the street began fading in the 1960s, Glubes moved across the harbour to 100 Main Street.
Steven Budovitch started the sound studio inside the furniture store in 1978. He'd been an employee and convinced the owners to let him run the stereo outlet as a store-within-a-store, eventually getting its own street access. At the time there was Music Stop at Wyse Road, but that was the pretty much the only other stereo store in Dartmouth. In those days video wasn't really part of the stereo equipment store. This was long before home theatres. "It was a customer that was strictly interested in music, no video," he says. "Rock and roll really brought the stereo business to life."
Budovitch and his partner, Kevin Sawler, bought the store in 1990 when the furniture side went out of business. "It became a business from a hobby," says Budovitch. "When I was 13 I got the music bug and then it became part of my life." These days televisions account for half of Glubes' business. "Plasmas and LCDs drive the industry. And after people buy the TV if the stereo system isn't up to par they'll come back looking for one. To enhance that experience."