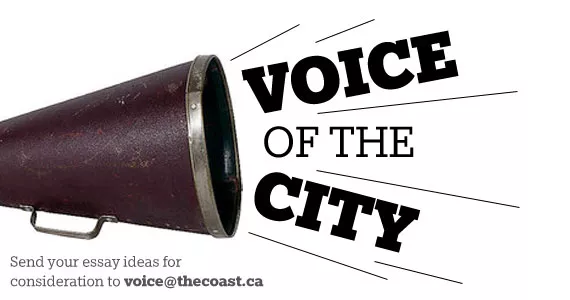 The fact that tanning beds can give you skin cancer is the most ingrained cliche on our disease-prevention radar. The vast majority of us are proud to say we've never used one and even prouder to say our province bans them for people under 18. But after my aunt, Ginny, was diagnosed two years ago and passed away in August, I've realized that we're only just beginning to really talk or care about the disease.
On a fresh Sunday this September, about 75 people showed up at Shubie Park for a walkathon to fight the most aggressive type of skin cancer, melanoma, which is the type Ginny had. It's the only event for this cause in Atlantic Canada, and it started just last year because a lady lost her brother to the cancer after his doctor missed the early signs.
When Ginny was diagnosed, we said that she began her "battle" with the disease. And battle it should be. But until we make sure more events like the walkathon (called Strides for Melanoma) happen downtown and make sure reporters are on the scene, it'll be an every-family-for-themselves kind of war. I only heard about the event because Ginny's commanding fleet (my uncle, two cousins in their 20s and her equally loyal miniature poodle) recruited friends and family to walk for her.
It's true that about five times more Canadians were diagnosed with breast cancer than melanoma last year, but more than 80 times more people got mammograms than any test for melanoma. So someone call Snowden; the reality of skin cancer is being kept too secret.
But any skeptical reader is probably thinking, "Melanoma must be getting less common now that people know tanning is dangerous, right?"
Wrong. The incidences have tripled over the past 30 years.
"But that statistic's probably caused by the older generation of former sun gods."
Sorry, but it's the second most common cancer for young people.
"But the more melanoma is talked about, the more crowded my doorstep's going to get with people asking me to donate to cancer research."
Wrong again, but this time I have good news. Even though it's one of the deadliest forms of cancer, it's also the easiest to prevent. Better prioritizing melanoma wouldn't so much mean investing in labs but instead publicizing a simple spiel: What does a cancerous skin mark look like? Dark, asymmetrical, blurred boundaries. Where could we find them? Anywhere, including the soles of our feet or under our fingernails. Who's at risk? Not just Anne of Green Gables--- people with dark skin aren't at all immune. How dangerous is a sunburn? If it blisters, you should see a doctor.
Nine out of 10 cases of melanoma can be cured if we catch them right away, but the chances of recovery plummet in just a couple months.
Teachers, parents, family doctors, city councillors and the media could all take part in spreading this rundown. It should become common sense that if you have a dark blurry mark on your skin, it might not be an aging spot or undiscovered birthmark---and that should be anything but a relief.
Let's take advantage of the fact that basic awareness can really fight this one. The battle against melanoma doesn't have to be expensive---neither in research dollars nor in lives.
---
Meagan Campbell is a journalism student at King's College. Originally from PEI, she began to focus on writing after her first and last rugby season in Grade 10 went terribly wrong. Since then, she's been working on a documentary about food insecurity and writing articles about anything she thinks is worth attention.