Welcome to Halifax! We're so happy to finally have some fresh flesh here to replace our withered, rotting husks! There is truly nothing like a crop of cool 18-year-olds to remind you that time is a rushing river, carrying us all toward the insatiable black belly of Death. We are psyched for it to gobble up everything we love until one day even we are swallowed! THANKS.
Jk Jk Jk. Guys, come on. We're so psyched to have you here. And, to be honest, Halifax is a bit of a Neverland. Everyone here is ~*4eVer*Y0UnG*~. Seriously. That's all of our rap names. Here, you will see people twice your age at all the bars you go to, letting their hair down to Rapunzel lengths, dancing with reckless abandon. Here, age actually doesn't matter. Like, at all.
Take me for instance. I'm 28, and this year I'll be back at school taking classes with you. I mean, I'm only going back to school to stop student loans from calling me every day during my bath, but I am going back to school. Let's be buds! I will take you to Gus' Pub and dare you to eat from the communal Party Mix bowl. I will take you to shows, gallery openings, readings, rallies and protests. You will be welcome!
We want you guys up in our faces all the time, filling us with new ideas, offering different perspectives. We want to take you under our collective wing so you become thoughtful, discerning, respectful members of this community. Aaaaand so you don't write any rape chants at Frosh. ;)
Now, when you first land in Halifax, it'll probably look like a series of giant pits where someday buildings might be. That sounds like a bad thing, but really it's a pretty decent metaphor for, I don't know, potential or something? We want to give the impression that Halifax is a city where anything is possible. But mostly (and this is what I love about Halifax), it's a city where any you is possible. In Halifax, you can be whoever the hell you want and it's OK. And, if you don't know who that person is yet, Halifax is a great place to figure it out. Here's why:
You're about to find yourself surrounded by people who are constantly creating art. Everyone you will meet will be in like, six bands, three pottery classes, on their second novel and also showing a series of paintings they did of Kurt Cobain using only their pubic hair and some red wine. This is going to make you feel like a giant sack of shit if you don't immediately start producing content. So, you will never stop working, discovering, creating until you discover/create the thing that makes you say, "Ah-ha! Yes! This is ME!" And from that point on, everything's gravy, baby!
BUT, to experience the full breadth of our warm, fuzzy, hug-all-night arts community, you gotta get off campus. You gotta fully eject from the south end and come hang out at The Khyber, Gus' Pub, The Bus Stop Theatre, Menz Bar, Radstorm, etc etc etc. You gotta come where all the broke people live if you wanna see us hold each other up. Know what I'm sayin'?
We may seem like a bunch of tough nuts at first, but believe me when I say, "We want to know you! We want to love you and take you for cheap breakfast and also to one of the 1,000 lakes we have and to the ocean. We want to collaborate with you! We want to see what you will make and who you will become in this city we all share." OK? Guys, this city is special. Come be special in it. :)))))
---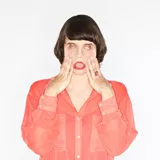 Cheryl Hann is a writer, actor and comedian in Halifax. Her life is like Candy Crush Saga cause she would fully make-out with a chocolate bar if it had lips. Follow her Instagram @scumsuck.