Politicians aren't necessarily known for their fashionable prowess. (Google "Stephen Harper leather vest" for all the evidence needed.) That doesn't mean politics and fashion are mutually exclusive though. This election, no matter which party's victory/losing party you're attending, you can do so in style.
NDP
The election comes at a particularly fortuitous time for the NDP: Halloween is just around the corner, making the party's signature shade of bright orange less obtrusive. That should not be interpreted, however, as a carte blanche on anything orange—the key is moderation. Try a burnt-orange shawl/wrap over a statement white blouse and sleek cigarette pants; both stylish and warm. A rust-coloured tie, bright neon clutch or wacky accent socks would work just as well, but take a cue from Mulcair's style book and pair your orange with blues, to avoid a complete Halloween look. If you want to go full fanboy, put down the razor and start growing that beard now. Make Papa Mulcair proud.
Conservative
The easiest election night party to dress for because, like a lot of its supporters, the Conservative colour is quite reserved. Blue is basic (#noshadeintended). Everyone owns blue. But to set yourself apart from the crowd, why not up your suit game, and add some texture? Think: velvet. A blue velvet smoking jacket, a bejewelled plush skinny suit a la Maison Margiela, or even a wide-legged pair of velvet slacks as done by Emilio Pucci. All great options, and easy to find given Halifax's abundance of thrift shops. Alternatively, play with small-scale patterns; gingham, plaid, stripes and polka dots are all somehow timeless and fresh at the same time. The key with this crowd is subtlety. Don't go overboard.
Liberal
Going to a Liberal election party comes with its own set of challenges. First of all, you have to compete with the ubiquitous posters of Trudeau and his "nice" hair. But if you can handle the inevitable hair envy, then more power to ya. Go old-school with some classic red tartans or plaid to bring some excitement to your look. Bonus points for playing into Nova Scotia's Scottish roots. Short plaid skirts, however, can look a little too school-uniform-y, so lengthen the hem and try a below-the-knee fitted pencil skirt and a tucked-in black turtleneck (another fall must-have). A red plaid tie or pocket square is a safe bet too. Deep oxblood or burgundy pants may be a little stale, but done properly with sharply-tailored pieces, it can give new life to your well-worn favourites. Try them with a wool sports jacket, your Blundstones and a navy striped shirt for a sleek yet easy-going look.
Green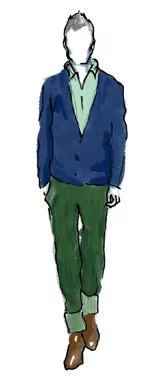 For the love of all that is holy, avoid any head-to-toe bright green outfits. That look is strictly reserved for leprechauns and...nope, that's it. Deep greens, however, are abundant in stores during autumn so take advantage of the seasonal appeal. Muted shades of olive or khaki are a subtle way to match political-party-to-trend, and safari-esque pieces go with the eco-centric mantra of the Green party. Army fatigues, though, do not mean shapeless boxes—as exampled by the sleek silhouettes at Rebecca Minkoff, Alexander Wang and Altuzarra. Think belts over shirt dresses, cuffed sleeves and exposed decolletage or legs, finished off with smart shoes. For those who skew towards dude, you're in luck. Green is one of menswear's biggest trends (as is corduroy). Keep things mod with a slim cord cuffed over brogues and pair with a neutral tan or grey cardigan or a navy button-down.