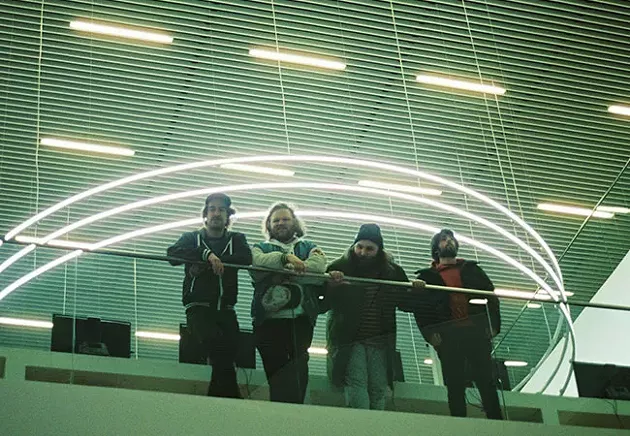 Family Hangover
Friday, June 9
walrustheband.bandcamp.com
The rock band Walrus, which makes woozy, trippy throwback music, has been building its recorded output steadily for the past five years. The quartet started small, song by song, with split tapes, expanded to the EP format with Glam Returns in 2014, followed by another four songs a year ago in the form of Goodbye Something. Now it is 2017 and finally there is a proper full-length, 10 songs of psychedelic pop. It looks like it was by design—a slow, steady climb, track by track—but as with most things, it was about money.
"We always wanted to do a full-length but we wanted to have it on vinyl," says singer Justin Murphy from Toronto, audibly lighting a cigarette, "and we never had the money to pay for it." Luckily last spring the band was signed to Madic Records, Dan Mangan's imprint, distributed through Arts & Crafts. So now there is vinyl.
Murphy is calling from backstage at Field Trip, the two-day Toronto festival put on by Arts & Crafts and headlined by Broken Social Scene, a few hours after Walrus' early-afternoon set. Tomorrow the band will fly to Germany to support Wintersleep on its European tour, followed by a monster North American trek including Sled Island (its next local show is Evolve on July 14).
The members of Wintersleep—along with Mangan, and Matt Mays—were early supporters of Walrus and took them on tour. "The shows we play with them are so good," says Murphy, "but they're different from the shows we normally play. When we go to the States we play house shows, not these sold-out rooms."
Family Hangover was recorded, as were the two EPs, with Charles Austin at Echo Chamber Audio, finding a shared love of Spiritualized, 90s guitar bands and The Beatles. "He's the most fun person you could ever work with, there's no pressure at all," says Murphy. "I feel like sometimes he won't tell you if you need to redo something, he's like 'No it sounds good, man.' He's so into the music, he likes all of us. He's like our music dad in a way. He'll tell you stories that are like 'Holy shit.'"
Murphy—who sings and splits guitar duties with Justin McGrath; his brother Jordan is on drums and Keith Doiron plays bass—is happiest with this batch of songs, out of the lot of them. "The songs are more personal, more introverted lyrically," he says. "The songs as a whole are a lot more mature—we were trying to craft the songs the best way we possibly could, and not be too indebted to sound. We're getting away from the psych thing a little bit more."