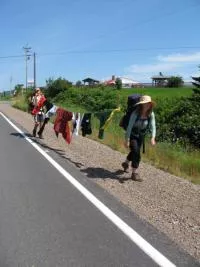 Eryn Foster is the first artist taking part in HRM's new artist-in-residence program. From now until mid-December, Foster will be working out of Point Pleasant Park Lodge, the old stone building near the entrance to the park (just at the end of Young Ave).
This Sunday Foster will be conducting her first of many Wanders in the Yonder, from noon-3pm, starting at the Lodge. The walks are part of Foster's walking-based projects—previous projects included her New Canadian Pilgrimage to Sackville, NB, and last summer's jaunt around PEI.
Each walk is without a destination, going in a different direction. Bring hiking shoes and a snack. The walks are weather permitting (Light rain yes, hail, no). If you can't make this one, there are more scheduled for October 18, November 1, November 8 and November 22.