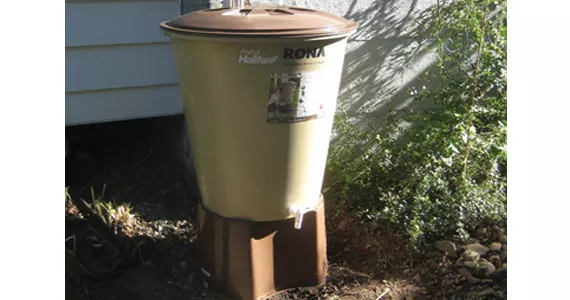 In a city where it feels like it's always raining, an issue we could all stand to be better informed on is stormwater. Monsterous downpours, awful sideways rain, perfect snowfalls washed away within days---sure, these common occurrences are irritating, but the unpredictable precipitation around these parts is putting a beating on water treatment facilities, and our lakes and streams, too.
As always, Clean Nova Scotia is on it. So much so that last year they debuted RainYards, the province's first stormwater property-specific education system. The pilot rolled out last summer in a Dartmouth neighbourhood not too far from the organization's office. One hundred households took part of the interactive program, which kicked off with a rain barrel-painting community event. The initial rain barrel participants received was free, a powerful incentive to get people involved.
"What we thought was, a rain barrel is great, it's flashy and it's something people remember," says Valerie Francella, the project's coordinator. "But you need people to make a bigger change than a rain barrel."
The RainYards team then took the time to meet with each home owner for a walkaround, assessing their properties and any issues that existed, before eventually making a site diagram which highlighted issues and recommendations--- which ranged from French drains to rain gardens to re-grading of landscape--- and sending it off to the community members. "It's tailored to the homeowner, and it's something they were actually involved in," says Francella. "The idea is to empower the homeowner, so once they get the package the onus is on them. We field questions, but some recommendations have higher price tags so it's up to their ability, and interests."
Over the course of the RainYards project, queries from interested homeowners across the HRM flooded in, proving the interest in taking responsibility when it comes to stormwater and infiltration issues far exceeds the engaged Dartmouth neighbourhood. This year Clean Nova Scotia hopes to expand the program to include 200 to 400 properties, and while the neighbourhood has yet to be chosen, Francella hints that the second season of RainYards, which gets underway this spring, will likely be somewhere on the Halifax peninsula. "We were thinking we could offer this program and change entire communities," she says. "That's the dream." Well, that's one down.
For more information visit clean.ns.ca.