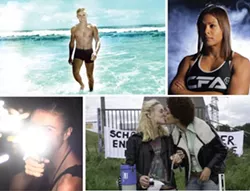 Clockwise from top left: Tab Hunter Confidential, Game Face, Summer (Zomer), The Amina Profile.
It's a Netflix world, but OUTeast Queer Film Festival producer Andria Wilson suggests ditching the couch for a theatre seat once in awhile, "I was at [Toronto LGBT fest] Inside Out, watching Tab Hunter Confidential," she says. "I was alone, sitting next to strangers, and on one side of me was this older couple, two men, who were crying and sobbing loudly throughout the film, and on the other side of me was this young gay man, scoffing."
It was a unique, illuminating and entertaining experience that can't be replicated at home, she says, though you can have your own Halifax version of it when Tab Hunter screens at the Museum of Natural History on June 12. "If you're able to watch a film in the context of the festival and sit in a room with people who have lived these stories and are impacted by these stories," says Wilson, "it's just a completely different viewing experience."
OUTeast, now in its fourth year of celebrating queer cinema, has for the first time branched out from its traditional sole venue, the Neptune Studio Theatre, to include the museum as well as Spatz Theatre and Menz Bar. "We wanted to take almost a music festival approach, work with venues that exist rather than trying to make every audience work in just one room." Menz, for example, will screen Drag Becomes Him, a documentary about RuPaul's Drag Race winner Jerick Hoffer, AKA Jinkx Monsoon.
Another festival draw is director Sebastian Silva's feature Nasty Baby, headlined by Kristen Wiig. "It's fantastic," Wilson says, "but it's not Bridesmaids. It's super dark. It's one of the films I'm excited to talk to people about afterward." She recalls a conversational uproar created by director James Franco's Interior. Leather Bar. last year. "Some people loved it, some people absolutely hated it," she says, but by prompting such passionate discourse, "we create this little community, even if it's just for a weekend."
There are three shorts programs, focusing on Atlantic Canadian, Canadian and international filmmakers. "A feature is one story and that's all you can tell with it," Wilson says, "but with short films, you can cover so much ground, and I love the range of stories and the diversity we're able to provide."
Wilson is particularly excited about OUTeast's opening film, The Amina Profile, a documentary about online romance and international politics that premiered at Sundance and won the Special Jury Prize at Hot Docs. "It's so good," she says. "We had an opportunity to program a Canadian film directed by a woman and make that people's first experience of the festival: just really delivering an exceptional film."
The Amina Profile will screen at Spatz, followed by OUTeast's opening gala reception, so put down your laptop, turn off your TV and support your local and not-so-local LGBTQ+ community by taking in some actual cinema. "You'll have a good time," says Wilson. "I promise."
---
OUTeast Queer Film Festival
June 11-14
outeastfilmfest.com