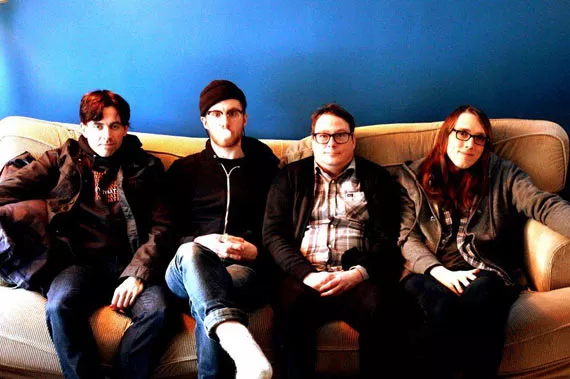 Weekend Dads EP release party w/Crossed Wires, Dyscontrol and Noise Policy
Friday, June 24, 10pm
Menz & Molly Bar, 2182 Gottingen Street
$5/$7
James Clobbertson, vocalist/bassist of Halifax's punk-rock four piece The Weekend Dads, is sipping a large, inky-coloured Americano in a coffee shop. Dressed in a total rocker's uniform—black jeans with a black t-shirt and hoodie—you'd notice the musician-like air around him if you looked long enough. No one in the cafe even glances, though, almost summing up the Weekend Dads' story in one simple scene.
Perhaps his oversized glasses foil any note of rock'n'roll, making it understandable other coffee shop patrons afford him no notice. But, as Clobbertson pushes on his glasses, he begins talking about the band's recent three-week tour in Europe. "At four of our shows we had encores, which I don't think we'd ever had one local. Yeah, try doing four encores when you don't know any other songs! So we played Ramones songs on the spot that we had never played before," he recalls, laughing.
Clobbertson sets down his coffee cup, saying it's different back home: "One of our last shows in Halifax was a house show." Despite three US label releases, Weekend Dads is still one of the city's best-kept secrets. But maybe that's about to change, as the band preps for the hometown release party of its latest EP, September Downs, Friday, June 24 at Menz & Molly Bar.
Inspired by "some pretty shitty times over the past two years," the album is a different take on punk. The rockers put together a record that's an attempt at their vision of what punk can be. "I like pop-punk's sneakily melodic aspect. If you peel back the layers of that, it's there. I like the sneaky smart aspect of it as well," Clobbertson explains.
"People will think 'Oh you listen to punk music, you're a dummy,' but there's a lot of really sharp, biting wit which we can identify with," he adds as the conversation finishes, stepping from the cafe to the street. Walking away, he's almost instantly swallowed in a sea of black hoodies, unrecognizable once again. —Morgan Mullin