I began the weekend watching a woman split a watermelon open with her thighs:
Then there was some talk about Liberace. There was a very funny video where Liberace walked through his ostentatious house, playing piano on the carpet, in the bathtub, and in the closet, heh heh. "I bet Liberace and his driver watch this and then go back stage and kiss their wives. Kiss kiss!" shouted our special guest, Pinky of TV Carnage. In this photo, Pinky is standing in front of a video of Liberace's house. Those are Liberace's gates. I'm going to name my next band "Liberace's Gates" I've decided. Or use it as a name for a series of softly-lit, warmly-toned piano porn.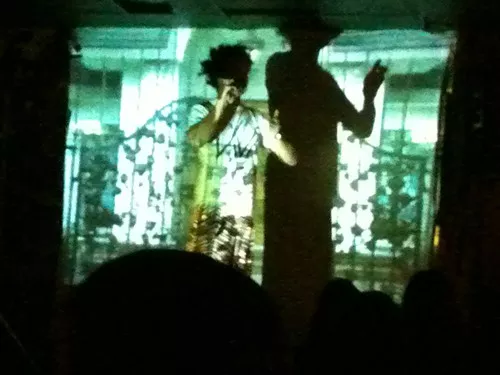 Then he showed some stuff from his new compilation, Let's Work It Out. Exercise videos really freak me out so it was off to downtown!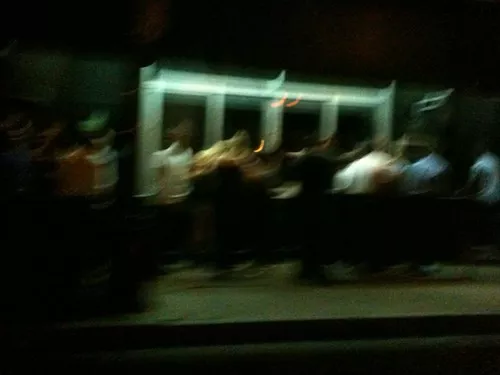 Doesn't that sight make you wanna take off your clothes and get down? SORELY. TEMPTED. But I pulled up my pants and went to the Seahorse instead. Apparently I arrived in the aftermath of a big throwdown in the ladies' room.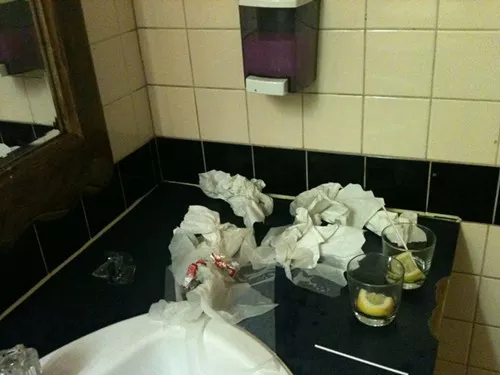 let's put our toilet party on the sink!
Actually, I think it was just girls being super gross, but wouldn't it be fun if there was a rogue all-girl gang like the Lizzies being all crazy and breaking shit in the Seahorse bathroom? Just because they can?
she's pretty....DANGEROUS!
Also - don't you just love this band?
kc spidle, meg yoshida, evan cardwell
I like when these two point their guitar/bass at each other like weapons. I like the scary descent of "Detach" and I like seeing kids fall down when the band gets warmed up. Even when bouncers come in and try to break things up, it doesn't really work and by that time the set was over anyway. Maybe the bouncers should focus equal or more energy on broken shards of glass in the bathrooms instead of pushing girls around in the mosh pit? Especially when young ladies' sandalled feet are about? But what do I know, I don't BOUNCE.
I also saw Duzheknew for a tiny bit. They closed with "Gut Feeling." It was amazing.
The next morning I had a million bikes for breakfast: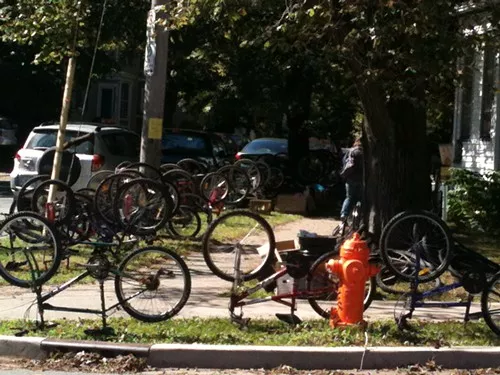 saw this wonderful box:
who did this one? does anyone know?
and bought this thing. This is officially the weirdest thing I have ever bought. It's like a chew toy, but with four or five human faces sewn to it. That hair is also real human hair.
The man I bought it from says it was crafted by a "local artist." "I'm just glad I don't have to look at it anymore," he says. I paid $2.50 for it. I sincerely hope it is cursed.
For more weekend diary, tune back in two weeks, exactly! Did this bore you? Send shitty photos and witty comments to scene@thecoast.ca.