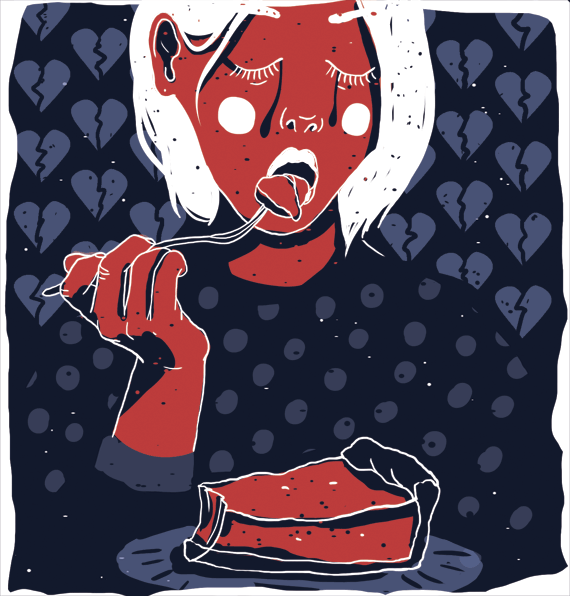 College life has more than earned its widely purported reputation. There's the top-notch education it instills in the leaders of tomorrow, and also all that wonderful, selfish lust-filled living provided alongside the overpriced academia, dingy dorms and calorically ignorant meal plans. It makes sense that any 18-year-old who's living away from their parents' place for the first time and surrounded by new experiences would want to dive right in.
Then there's your boyfriend, or girlfriend, who you promised your heart to back in high school. They're there and you're here—at this disgusting, amazing, boozy, sex den of a residence.
Suddenly that beautiful, sweet boyfriend who carried you through some of the hardest times of your teenage years seems pretty far away. As the days pass, he turns into more of a textual dispatch than a human. It might be time to have a talk.
So many high school relationships end in university every fall semester during the Thanksgiving break that there's even a repulsive but effectively blunt nickname for it: turkey dumps. Breaking up with your high school sweetheart in university is pretty much expected, and that's OK.
I'm about to kill love for you. So sorry about that.
As someone who broke it off with her high school sweetheart during her own first year of studies, I wish I could interview my younger self for this article. Luckily, I kind of can. Meet my 18-year-old cousin, Alex.
Alexandra Jeannotte is right now heading into her first year of public relations at Mount Saint Vincent University. She graduated this past summer from Halifax West with her boyfriend, then broke up with him on prom night, spent a month single and is now haphazardly piecing the relationship back together.
"It was kind of an inevitable break-up, that's how we saw it. We basically broke up because we were so stressed about going to school," she says. "But we still missed each other after. It's hard after being together for two years, so that's why we're sort of back together."
Momentum is powerful relationship fuel.
For many of us university graduates blessed with hindsight, the first-year breakup was about securing some hookup freedom by Halloween (no shade). But for my dear cousin, it was a way to pull the plug on a shitty long-distance relationship before it even began.
"We weren't going to be close and stuff anymore," says Jeanotte, whose boyfriend is headed to NSCC Shelburne, "and I need somebody who can be there actively in my life, and I felt bad that he would have to drive back and forth to see me."
Being an institute of higher learning, university is also a perfect chance to clear some mist and reassess how and why this relationship even started. Emily MacKinnon, 26, went through a pre-university breakup in 2007 with her then-boyfriend of six months.
"We were very different," says MacKinnon, now an editor with Nimbus Publishing. "My thing was reading, and his was hot-boxing cars and stealing copper wire. By the time I graduated high school, the novelty of his bad boy persona wore off and I came to see how unsuited we were for each other."
As Dan Savage so eloquently says: DTMFA.
None of this is very romantic, is it? Looking at the odds, it's not a very safe bet that any high school sweethearts will stay together.
Kudos to Trevor Murphy then, because he hit the jackpot. The 31-year-old CKDU host and record label owner made it out of the typically tempestuous university years with his lady love by his side. The couple is tying the knot this October, ironically on Thanksgiving weekend.
"I think for us, one of the things that works is we're not those kind of people who hold each other back," says Murphy about his relationship secret.
"We don't have to do everything together. I play in, like, three bands and travel around, and sometimes she just stays home, and that's fine," he adds. "We're OK with each other. That's the person you fall in love with."
Right now, Jeannotte and her boyfriend are trying to work it out as best they can. She says they might wait until second year to rekindle the flames of passion. But for her—and any 18-year-old with the world at their fingertips —a lot can happen in 12 months.
"We could change as individuals and as people in a year, so I couldn't make any promises saying we will get back together," she says. "That seems naive to me. Like, keep yourself waiting for a year? That's a really long time."
Honestly, it is a really long time. Whatever happens, for her or you, remember that it's OK to break up. Don't stay in a relationship that is flailing, flaming and ready to hit rock-bottom just because you think you owe it something. Not stoked? Move on. If the two of you are still feeling beautiful, boastful and blissful together, well, more power to you. Either way, maybe save Thanksgiving for what really matters—pumpkin pie.