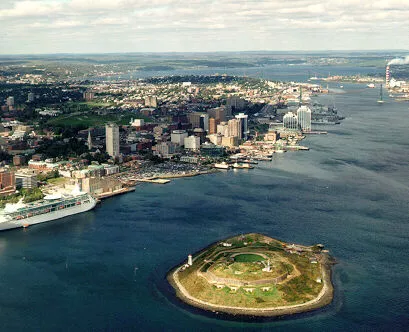 Halifax is where I hang my hats
it's where my chosen home is at
but I follow a career path that keeps me moving
so it seems I have to always be leaving
some days this proves to be my undoing
homesickness and missing things and consequently stewing
but mostly it just soothes me
when they say "where from" and I say "here".
I prepare for Pecha Kucha on a BC ferry ride
thinking of my cats and people on this country's other side
this ocean is beautiful but it's not mine
and if I'm truthful in conversation and up on stages
about where my heart lies
I'd have to say it's in a gritty city
rugged and pretty
in the maritimes.
When some strangers to Halifax think Halifax, they think old
atlantic history
they think brew and barstools too and ships in a once exploded port city
and those who get to visit know colours more than grayscale
and the soul of the streets, hearts on our sleeves
we're not only welcoming—there's reasons why we stay here

I forget to mention some things
like "we have a noon gun and every day at noon it tweets"
and fires the call of a cannon as if to applaud the military
as if we could forget
birds fly off in distress
and cyclists take hilly detours to avoid it
a ritual to honour war more than to tell time
from this port there has been much deployment

on my travels I do tell tales of Halifax's bicycles
even as the infrastructure fails
governments citing budgets or bullshit or shortfalls
claiming logical reasons
I tell people in Vancouver that yes, we do ride all seasons
our peninsula is ground covered easily
speedily, dreamily
Haligonians have calve muscles to come home for
When I leave this city I take with me mostly
imagery of love, not scandal
because I'd rather sing praises than shame
name successes rather than ways that we fail
but I'm trying to change that
because though I am innately a diplomat
there are big disappointments in Halifax
hey, remember when officials occupied a peaceful protest
lest we forget

Ironically, poetry stood by to witness this
admittedly, I missed it, off citing verses for veterans
but Robbie Burns' reference
and words for thanks and blessing
were not heard, in a rainstorm, in camera
by police who stormed the area
peace is tenuous and barely there
in Halifax sometimes, too

but we are strong people amidst decrepit buildings
or cavernous places that wait for the filling
we make space into canvas for critical viewing
it's dirty and confusing
like sewers still spewing waste into the sea
and our communities are torpid and engaged and torn at the seams
development isn't always as it seems

We tear down to build up
heritage surrounds us but we can't keep it up
I once stood by as a wreckers' ball felled another church
it's not my god but it still hurt
people seeking permits for cheap plastic structures
hard to praise this place's culture while razing its culture
wood and brick and Africville
and so many suffer

On travels I snap photos of other cities' wonders
I watch people interact, take space or hold it for each other
and I don't see as much segregation based on skin colour
the tension here is old, I know, but will we come together?
black Nova Scotians and white settlers
beneath this bean I thought of history meeting peace, once and forever
There are things we need to help this process
Halifax, don't take the cobblestones away yet
leave us NSCAD, what artists say and how they say it
there was a trough that many beasts once shared
and a monument now commemorates it there
"be kind and merciful to all animals"
simple saying, long live the patrons, let us care

and this sign:
"being kind is more important than being right"
this is the Halifax that I call mine
thank you car care for simply being polite
when I travel from here I take with me a little light
people say we're nice
I say, "it's true, we're also warm
you should visit and you'll feel it
we're a fire inside the storm"

Last year I was humbled with a certain crown of laurels
named the mayor's poet laureate for my work and words and poems
the mayor has nothing to do with it but I consider it an honour
I wonder what they thought I'd talk on
the poetry I'd see
it's not just the scandals I'm here for but also the truth, the beauty
So, then, if my role is to comment in poems
on Halifax, what's going on and how it all goes
I do have praise, like the commons, like the oval
like the free skates and citizens participating, joyful
council, thank you, this ground's not just for bad concerts
and scandals for money and how the mayor lost it
I went to the pow-wow for people, not profit

And now for more top reasons for toting halifax as a supreme city:
where else can you leave downtown and be in a lake in 12 minutes?
The water is clean, pristine
we can even go skinny dipping
and I do
it's not scandalous, it just feels glamorous and luxurious and true
Halifax—city of lakes to soothe you

People say, "what do you get up to?"
I say I dance
yes, about every weekend
getting low with haligonians
it smells like life and sex
house parties so full of pheromones
you can't know what to expect
so just roll with it
get close to someone you haven't been close to yet
I've danced in a lot of cities but dancing here is best
Dancing is a gateway
because you know there's going to be kissing
and that might lead to love—open up
a paradigm is shifting
if I say "this is my lover"
don't assume I won't take another, that I don't have others
or that any of them are actually mine
we don't own though we do belong
it's queer, it's straight, it's fuzzy lines
Halifax is in love and lust and it's high time
We reach hands out to trust and hold each other up and cry
we make art with these hands
and buildings and food and even change sometimes
we are a working city, citizens with the wherewithal to stay and strive
if we ever lack in resources we make up for it
with desire to live the good life

That's why our farmers' market is one of the best I've ever been to
and even in the depths of winter we can eat incredible food
remember, our economy is not as weak as we may think
it's lots of things
resources at our feet
let us support them, nourish them
keep our soil and our water and our bodies clean
Halifax, I often have to leave
but I sing your praises wherever I be
I tell tales of things I miss in my city by the sea
try to paint for strangers a picture
of your trials and of your beauty
you are like my longest-lasting hug
Halifax, the city that lives with so much love