Since Friday the media and public have been grasping for the motivations behind a planned mass murder spree that thankfully never came to fruition.
The accused shared "dark" imagery online. They were white supremacist neo-Nazies. Depending on who you ask, they were bloodthirsty terrorists or "murderous misfits." At the very least, they were Columbiners.
The Internet being what it is, there are all kinds of communities that allow like-minded folk to discuss and support each other in their love for virtually every celebrity, historical event or children's cartoon. It might be unsettling that there's also a place to geek out about school shootings, but it shouldn't be surprising.
By now the specifics of what happened in Halifax this past Friday are clear. A tragedy was averted after police and RCMP became aware of a planned public murder spree. James Gamble—the 19-year-old found dead early Friday in a Timberlea home—was planning to kill whoever he could on Valentine's Day at the Halifax Shopping Centre.
Two others were also charged in the conspiracy. Lindsay Kantha Souvannarath, a 23-year-old from Geneva, Illinois, was arrested early Friday arriving at the airport. Haligonian Randall Steven Shepherd, 20, was arrested waiting to pick her up.
Gamble and Souvannarath were actively a part of Tumblr's Columbiner community.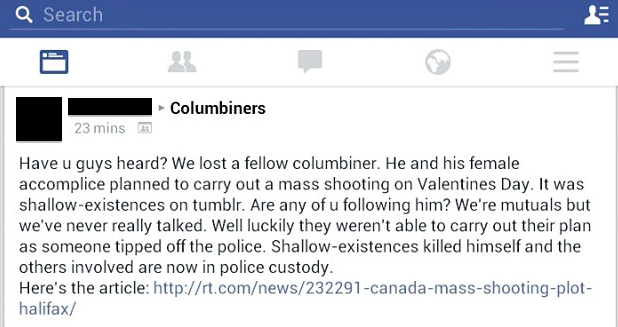 An Internet fandom obsessively fascinated with 1999's Columbine High School massacre, Columbiners dissect details about the tragedy (along with other historical killings) that left 13 dead and 21 injured. The mostly young, often female members focus on killers Eric Harris and Dylan Klebold; posting security camera GIFs of their attack, self-drawn artwork, romanticized daydreams and twisted photos apparently idolizing mass murder.
"You don't just get 'a little bit interested' in Columbine," one Columbiner writes. "You get captivated. Haunted. Engulfed. Hooked. Preoccupied. Fixated. Possessed. You get obsessed."
The subject matter may be revolting to the public, but the psychology involved isn't really that far off from Beatlemania or Beliebers. Different topic, but same sense of belonging.
Their community seems to be based around a form of hybristophilia; the "Bonnie and Clyde syndrome" where people express a psychological attraction to those who commit violent crimes. But a fascination with violent crimes doesn't on its own equal a propensity towards violence. The graphic imagery and apparent disdain for humanity is often just for show. It springs from what The Awl's Rachel Munroe calls "intensity without an outlet:"
"Because, in the most positive sense, what the Columbiners are doing is working through an obsession with the support of a non-judgmental community. They don't have to explain themselves to each other, which seems to be a source of great relief. Along with their more explicit or swoony posts, the girls share their anxieties about upcoming history tests and awkward moments in class. They are vocally anti-bully. They upload pictures of themselves and ask if they're ugly; 'you don't know you're beautiful,' the Columbiner universe choruses back."
On one hand, Columbiners seemingly cherish the efforts of two vile people who murdered dozens of innocent students. That's at least distasteful—perhaps horrific—to many in the general public. But there are plenty of gore sites, serial killer blogs and true crime obsessives who know the difference between right and wrong. Some tried alerting police to Luke Magnotta's murder of Lin Jun, for example. It's likely a Columbiner browsing Tumblr tipped off Crime Stoppers in this case as well.

As happened in 1999 with heavy metal and video games, it would be really easy to put ideological blame for this weekend's prevented massacre on a tiny, fluid subculture. But out of all the reactions to the news this weekend, some of the most levelheaded have come from members within this true crime-loving group. Many have commended whoever made the tip-off to police, and encouraged others to do the same in the future. A blog run by two of Gamble's friends has been taking turns expressing sorrow over his terrible plan and sympathy for the hardships he faced in life.
"I'm happy that no other people were hurt, and that James will finally be away from pain and that everyone involved will get the help they need and deserve."
Just because someone wraps themselves in violent, offensive imagery doesn't mean they're capable of violence. Most Columbiners seem to be either morbidly curious, or social outcasts looking not to be judged.
There's been some back-and-forth this stormy weekend about whether the media should paint Gamble and Souvannarath as Nazi terrorists or troubled youth. As if the two categories are mutually exclusive.
North American news has this trope where Muslims committing crimes are terrorists, while white men are simply misunderstood. Minorities and other cultures shouldn't be heedlessly vilified over individual actions. But the solution to that prejudice would be attempting to understand every criminal as a human being—not racing to the bottom demonizing 19-year-olds.
Going through their blogs, there's no denying a history of Nazi imagery and school shooting obsession from Gamble and Souvannarath. There also appears to be the hopelessness that causes some infuriated young minds to lash out at the world.
Or maybe Peter MacKay is right, and they are just murderous misfits.
One trait most of the Columbiners seem to share is a belief that (despite their inexcusable actions) Klebold and Harris are deserving of empathy. That's something James Gamble—the only person who actually died this weekend—won't receive much of.